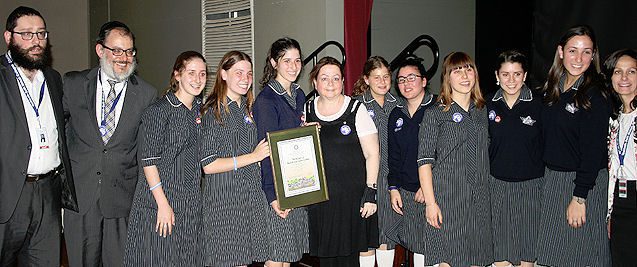 It all began when a group of Beth Rivkah College students decided to do something to support Israel. They decided to raise $22,000 for Magen David Adom to purchase a new First-Responder motorcycle.
So, they started an "I Stand With Israel" campaign. The campaign went right across Melbourne and even as far as Perth in Western Australia! Over two months, they achieved their goal. Check out the video showing just how they did it!
On 16th December 2015, an event was held at Beth Rivkah College marking the girls' amazing achievement. On behalf of the College's Year 11 Tzedakah Committee, Adina Teller said the following:
Two months ago, a group of us sat down in Rabbi Sufrin's office brainstorming the most productive, yet personal, way to help and support Israel all the way from Australia.

• What could we, a bunch of Year 11 girls do?
• How could we make such a strong impact when we are so far away?
• How can we make our impact personal?
After a few hours, we came up with the "I Stand with Israel Campaign" badges, and ordered 2500,
feeling overly ambitious. We came up with the badges because it is a way for people to express
their pride for our homeland, as seen in the design of the Australian map with the Israeli flag
as the background.

Our ultimate goal was to raise $22,000 in order to donate a new MDA ambi-cycle, a fully-equipped
medical motorcycle. We chose an ambi-cycle because, in light of the recent terror attacks in Israel,
the motorcycles are able to fit through the small streets and arrive at the scene faster than any
other mode of transport. MDA treats all victims regardless of their race, religion or nationality.

We were granted permission to kick off our fundraiser by selling the badges at "The Great Glick's
Challah Bake". After seeing our success, we got in contact with numerous Jewish Day Schools across
Australia in order to expand our campaign. This rocketed the campaign and donations began flooding
in, both through the selling of the badges in schools and outside "Glick's Cakes and Bagels" on
Carlisle Street, and through the GoFundMe account that was created.

Other schools created additional fundraisers to help out, such as the MDAchallenge on Facebook,
established by Yavneh College, and selling baked goods and icy-poles. In the past few weeks, numerous
donors have generously given large sums of money to help us reach our final goal – and we're proud
to say that we've reached our goal!

So, on behalf of the Year 11 Tzedakah Committee, I'd like to thank Rabbi Sufrin for enabling us
achieve such amazing things this year, not only with the MDA fundraiser, but with tzedakah throughout
the year. Thanks to all the Jewish Day Schools, communities and donors across Australia who have helped
us impact the lives of so many Israeli citizens with the purchase of this ambi-cycle. Even if one life is saved by it, then it is worth it!
Thank you to everyone at Beth Rivkah College for organising this incredible campaign. A special thank you to all the other Jewish Day Schools which supported their efforts and to all the donors to this campaign for your amazing generosity!