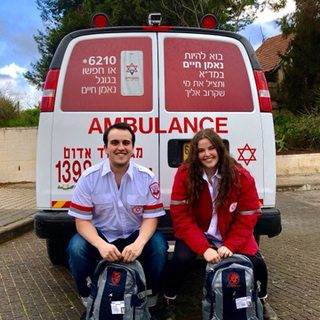 One of our volunteers, Zachary Rosenbaum, shares his experiences being on an ambulance at MDA:
"Being on an ambulance at MDA, I've found that in most cases, the driver on the ambulance usually takes the lead and gives the rest of his team instructions on what to do however on this occasion we had an English speaking driver who gave us much more responsibility and made me feel much more important. I was assigned to work with Tyla and I consider it to be one of my most enjoyable shifts. When we arrived at one of the patient's houses, we dealt with an older man who was suffering from a high fever and a strong pain in the head. Tyla and I instantly went to check vital signs of the patient in his bed and give him water and made sure that he was okay. I spoke a lot of Hebrew with this man and I was quite surprised how easy it was for me to communicate in Hebrew as I thought before I couldn't. Arriving at the hospital, we took him out of the bed and Tyla and I checked him in ourselves – which is usually the job of the driver but he was no where to be seen! I felt accountable and responsible. It was a very nice feeling to be able to adopt the skills of the driver and to be able to perform them myself.
On an earlier shift I was assigned to a group of male MDA volunteers who all spoke only Hebrew. We were called to a severe car crash which was really exciting for me as this was my first car crash. Driving to the crash, there were miles of traffic and constant honking and angry drivers. As we arrived to the scene, the whole road was blocked off by police as two cars had collided. The people who were injured were a group of French tourists who had broken hands, arms and slight bruising on their heads. Our team needed to wear special orange jackets and we were told to move the severely damaged car from one side of the road to the other. Unfortunately the tourists chose not to come with us on the ambulance due to an insurance issue which was worrying as it seemed they needed urgent medical attention. I was also called to another car crash later that day where a car had tried to overtake a truck. The truck rear-ended the car and caused it to flip on its side. The man in the driver seat couldn't move and was suffering from a strong pain in his spine and arm. He also had a head injury and was bleeding from his head. Firemen were also called to the scene as they were required to help get the man out of the car through the boot. My team then had to backboard him and drove him to the hospital immediately.
We received a call from a school in an Arab neighbourhood. The patient was a 15-year-old boy who only spoke Arabic who was suffering from pains in his heart. The heart problems were known to us as a genetic issue that his mother was also suffering from. My role in the ambulance was to check his vital signs such as his blood pressure and glucose levels however an emergency medical team were called to the scene and used a special and more accurate machine to confirm his vital signs. We rushed him to the hospital and checked him in however on the ambulance I used Google translate to ask him yes or no questions to assist me in filling out the patient's hospital file which was an interesting experience for me as no one spoke Arabic."