WHEN YOU CHOOSE TO GIVE, WHY NOT CHOOSE TO GIVE LIFE BY BECOMING A CORPORATE SPONSOR OF MAGEN DAVID ADOM ?
Magen David Adom is often referred to as Israel's second line of defence.
MDA save lives every day by providing Israel's emergency medical response and ambulance services, managing the national blood bank and providing international humanitarian medical aid.
The vast majority of our medics and paramedics are dedicated volunteers, who rely on supporters like you to continue their life saving work.
Over many years, Magen David Adom supporters have donated ambulances, medi-cycles and vital life-saving equipment, all critical to saving lives every day.
Your sponsorship will directly help to Save More Lives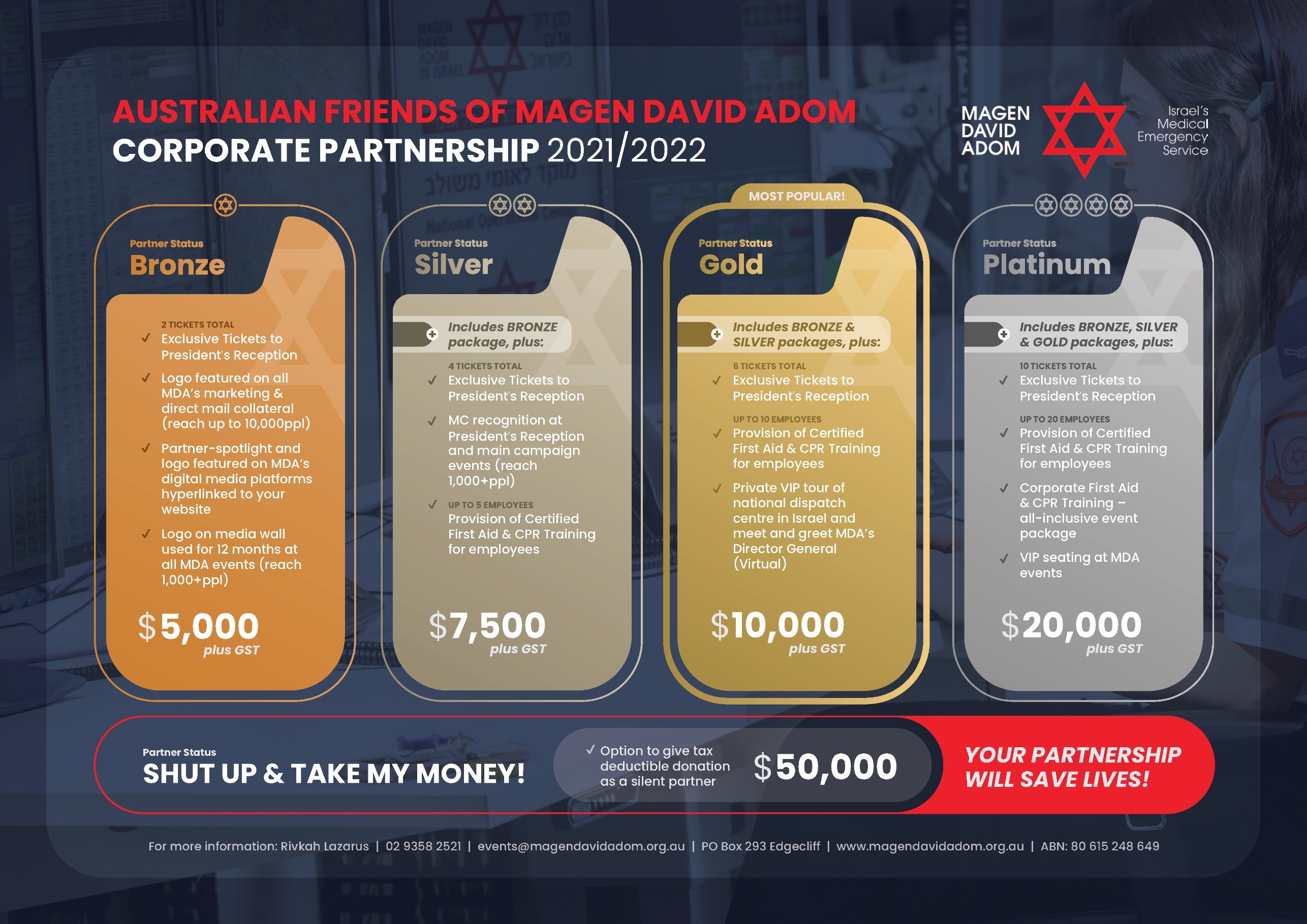 Click the image above to view a larger version.
We have a number of sponsorships opportunities available, each will showcase your brand to our loyal supporter base as well as the wider community.
Depending on your level of sponsorship, your brand will appear on the Magen David Adom Australia website, digital communications, social media and various printed promotional material throughout the year.
In addition, you will be acknowledged at all Magen David Adom functions, culminating in our Annual Campaign events. These events attract an influential audience of over 1000 key supporters including business and communal leaders, politicians and dignitaries.
How to Show your Support
For more information or to discuss a package that may be suitable for you, please contact Daniel Gara on (02) 9358 2521 or ceo@magendavidadom.org.au.
Magen David Adom does not discriminate based on religion, ethnicity or background – We focus on one thing and one thing alone – Saving Lives.