First Aid kits are invaluable in helping save lives, which is the core of Magen David Adom's DNA.
Why not support MDA by protecting your loves ones with one of our First Aid Kits for your home, vehicle and/or office?
There are two essential First Aid Kits available to purchase by clicking below or by calling the AusFMDA office on 02 9358 2521.
Please contact the AusFMDA office to talk about corporate compliant Kits for your workplace.
Our First Aid Kits are designed to comply with Australian Workplace legislation and standards.
Medium First Aid Kit $43.95 inc GST

A Handy First Aid Kit for the home or vehicle
Size : 13 x 21 x 8cm.
Kit Contents:
Gauze swabs 7.5cm x 7.5cm 3's x 3
Cleansing wipe x 3
Plastic plaster 7.2 x 1.9cm x 10
Face shield disposable x 1
Microporous paper tape 2.5cm x 5m x 1
Non-adherent dressing 10 x1 0cm x 2
Wound dressing #14 x 1
Conforming bandage 5cm x 1
Conforming bandage 7.5cm x 1
Triangular bandage 110 x 110 x 155cm x 1
Safety pins x 3
Stainless steel scissors x 1
Tweezers x 1
Notebook and Pen x 1
Eye wash ampoule 15ml x 1
Burn gel sachet 3g x 1
Nitrile examination gloves pair x 1
First aid leaflet x 1
Large First Aid Kit $57.95 inc GST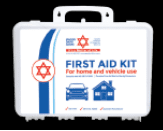 Great First Aid Kit for First response and outdoor activities.
Size: 18 x 25 x 8cm
Kit Contents:

Plastic plasters 7.2cm x 1.9cm x 25
Burn gel sachets x 1
Gauze swabs 7.5 x 7.5cm x 9
Cleansing wipes x 3
Non-adherent dressings 10 x 10cm x 2
Eye pad x 1
Conforming bandage 5cm x 1
Conforming bandage 7.5cm x 1
Heavy conforming bandage 10cm x 1
Wound dressing #13 x 1
Wound dressing #14 x 1
Burn gel dressing 10 x 10cm x 1
Eye and wound wash ampoules 15ml x 2
Nitrile examination gloves (pair) x 2
CPR face shield x 1
Triangular bandage 110 x 110 x 155cm x 2
Microporous tape 2.5cm x 5m x 1
Scissors 10cm x 1
Tweezers 12cm x 1
Emergency rescue blanket x 1
Notebook and pen x 1
Safety pins x 3
First aid leaflet x 1
Buy First Aid Kits