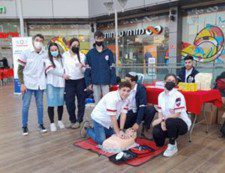 Magen David Adom inaugurated National Defibrillator Awareness Day in Israel on Tuesday, February 22nd. All week, MDA staff and volunteers are hosting CPR and defibrillator training throughout the country in malls, parks, and other public spaces
In Israel, some 8,000 cardiac deaths occur each year, and about half happen outside of hospitals. MDA is working to increase the survival rate. Thousands of defibrillators have been placed in public places throughout the country and MDA is educating Israelis on how to respond if they find themselves bystanders in such a scenario.
There is no need for prior medical knowledge. The defibrillator gives electric shocks as needed, controls the rate of CPR and gives clear and precise instructions. Additionally, each one is connected to MDA's call centre, enabling a paramedic or EMT to give instructions to the bystander, while at the same time an ambulance is dispatched to the scene.
Because every second counts. After the heart stops beating, a person's chances for survival decrease by 10% every minute, and after four minutes, brain damage can occur.
"Given the critical element of time, a casual bystander is the first link in the chain of saving lives," says Dr. Raphael Strogo, MDA's deputy director-general for medicine.
"Every week, extraordinary stories are published in the media about an innocent citizen who encounters an emergency on the street –- and thanks to only a few simple actions that include dialling Magen David Adom's 101 hotline, performing cardiac massages, and using a defibrillator, lives are saved even before an ambulance arrives," he says.