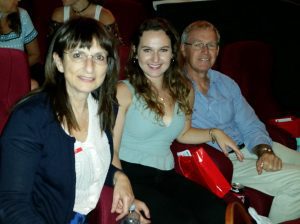 Over 230 supporters of Australian Friends Magen David Adom friends once again filled the cinema at Westfield on Wednesday 21 November for the Annual MDA Movie Night.
Attendees viewed 'The Mossad, Imperfect Spies' which provides a rare insight into Israel's foreign intelligence agency, which has been almost completely sealed off to the media. For the first time, dozens of its former operatives have agreed to be interviewed. These rare interviews bring to light personal and political dilemmas and challenges and form an account of the top-secret operations that have shaped Israel's past and may yet shape its future.
Melissa McCurdie, Vice President, started the evening with some deeply heartfelt words about Jeremy Spinak, former President of Jewish Board of Deputies, who sadly passed away just days before, at aged 36.
Tony Ziegler, President provided an overview of MDA's recent activities including the lifesaving services provided during the barrage of terror rockets which were fired upon Israeli citizens over the weeks prior. He also announced that, in recognition of Jeremy's commitment to the Sydney Jewish and wider community, funds raised on the night will be used to purchase an emergency first responder medicycle, to be named in Jeremy's honour.
There was a raffle on the night with a wide range of generous prizes and we extend our thanks to our sponsors who provided the gifts and refreshments on the night.
CONGRATULATIONS TO OUR RAFFLE PRIZE WINNERS
1st – Rachelle Newman – Leather handbag Valued $400 donated by Len Milner- Sak
2nd – Vivien Olian – Fully equipped First Aid Kit donated by MDA
3rd – Russell Lazarus – Bondi Pizza Dining Voucher $100 donated by Glen Lees – Bondi Pizza
4th – Diane Vesely – Bondi Pizza Dining Voucher $100 donated by Glen Lees – Bondi Pizza
5th – Taryn Boyarsky – Coffee Table Books (2) donated by Hedley & Zara Gordon – Book Review
6th – Ron Sekel – Dreambaby voucher $100 donated by Tony & Carolyn Ziegler – Dreambaby
7th – Alan Greenstein – Hamsa Bracelet donated by Anon
Snacks provided by Mighty Bellies.
We thank everyone for their attendance and support making the evening a great success.
[masterslider id="32″]