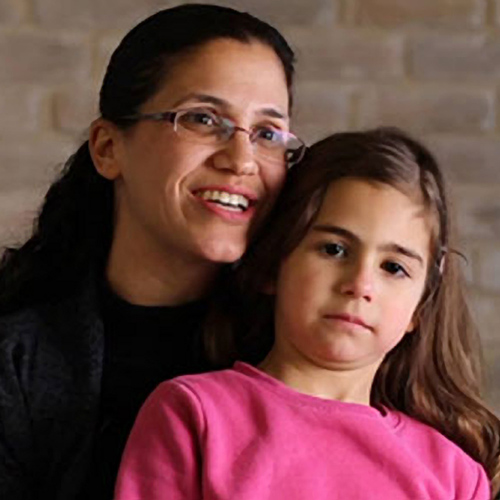 Naama's story
No one could believe it when the emergency call came in that a 6-year-old girl in Israel was having a stroke. And when Naama lost consciousness in the ambulance on the way to the hospital it looked like the worst was about to happen.
Naama had woken up from a nap screaming that her head hurt, she couldn't stand. Unbelievably, Naama's mother had just completed an MDA course on how to diagnose strokes and immediately called MDA. A neighbour who was an MDA paramedic arrived within minutes and carried the child to the main road to meet the ambulance as it approached. Every second counted.
At the hospital the dying child was rushed in for emergency brain surgery. A few minutes delay would have made the difference between a full recovery and tragic loss. But by the grace of G-d, Naama's life was restored!
---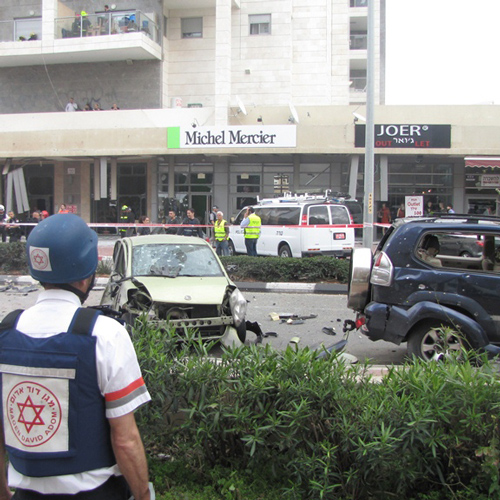 Rabbi saved after rocket attack
Ohad Moyal was on his normal ambulance shift when the siren sounded. The ambulance crew immediately stopped to put on their protective gear and lay on the ground. A few seconds later there was a massive explosion which landed on a nearby mall. Rushing to the mall they found many people injured and in shock, windows shattered and debris everywhere.
One critically injured man was a rabbi who was on his way to give food to the needy. He was bleeding profusely and Ohad performed lifesaving treatment on him before transferring him to hospital where he was operated on immediately.
After surgery, his condition was still tenuous. The rabbi regained consciousness after many days in intensive care and just before Rosh Hashanah, to the doctors' amazement, he asked to blow the shofar! His wife thanked the MDA team that treated him for their speed and dedication.
---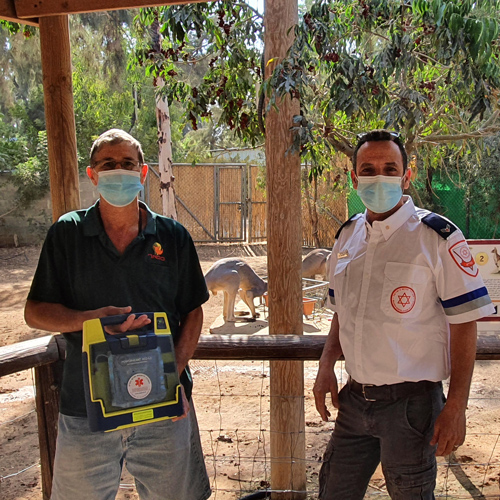 Defibrillator helps save stricken zookeeper
Amir Bendel, a zookeeper at the Safari in Ramat Gan, was about to commence work on the kangaroo enclosure when he suddenly had a heart attack and collapsed.
Magen David Adom was immediately called by two other Safari workers who rushed to his aid and began CPR. They had with them one of the two defibrillators that had been installed in the park and thankfully Amir's life could be saved.
---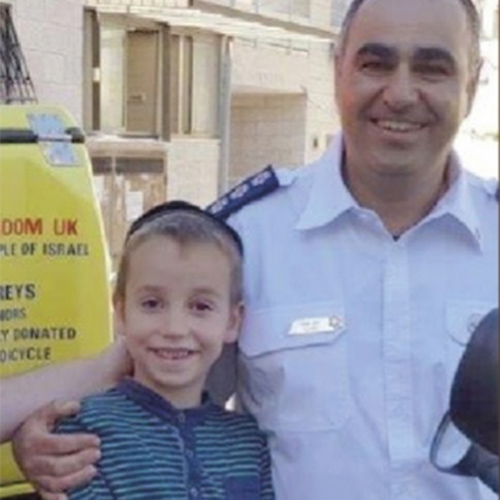 MDA app helps save 4 year old
Sarit Bar, a Magen David Adom EMT was relaxing at home in northern Israel when her first responder MDA app alerted her to a medical emergency nearby. A four year-old had fallen into a pool and was not breathing when his mother pulled him from the water.
The app also notified 4 other nearby First Responders.
Sarit and her son Amit, an MDA volunteer grabbed a first-responder's kit and a defibrillator and ran to the neighbour's house where the boy's mother was performing CPR on her child. She was being coached over her phone by an MDA dispatcher and EMT.
The defibrillator restarted the child's heart and he was soon breathing on his own. Within minutes the MDA Mobile Intensive Care Unit ambulance arrived and raced the child to hospital, where he thankfully regained consciousness.
---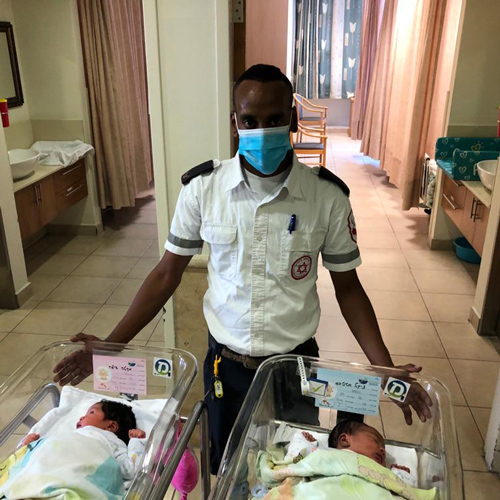 Two births in one shift
Daniel Yasso, an MDA Emergency Medical Technician and ambulance driver began a routine morning shift. He had worked for MDA for over three years during which he had treated a wide variety of cases and thousands of patients. He was yet to deliver a baby.
Responding to two separate calls that morning changed all that with the delivery of two babies, to two separate mothers.
Daniel excitedly explained, "For three years I was waiting for this moment. During the MDA medics course, I learned how to deliver a baby. I was a little nervous about the first birth but by the second I was already more relaxed and confident."
Both sets of new parents were extremely grateful to Daniel saying he was very capable and professional. "One moment he was driving the ambulance and as soon as he became aware that the birth had started, he stopped at the side of the road and delivered our daughter. G-d sent him to us."
---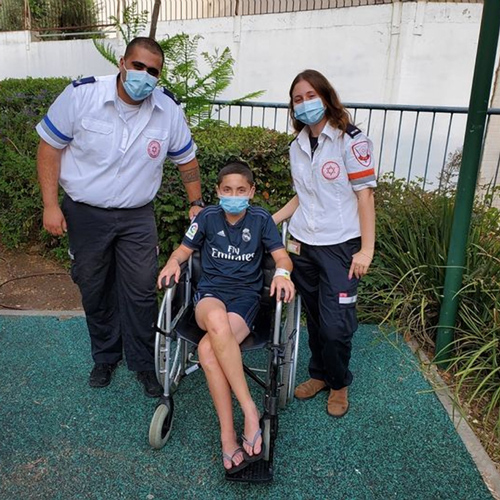 Near tragedy at football game
Eilon Atel and his friends were at a neighborhood soccer game when suddenly in the middle of the game, Eilon grabbed his chest as he suffered a cardiac arrest and collapsed on the ground.
His frightened friends called MDA's 101 Emergency Dispatch Centre and with telephone guidance from the paramedic at the dispatch center, began to provide him with primary medical assistance performing basic resuscitation until the MDA team arrived.Within minutes, an MDA Mobile Intensive Care Unit (MICU) ambulance arrived at the scene. The MDA team began performing advanced resuscitation eventually re-starting the boy's heart and saving his life.
---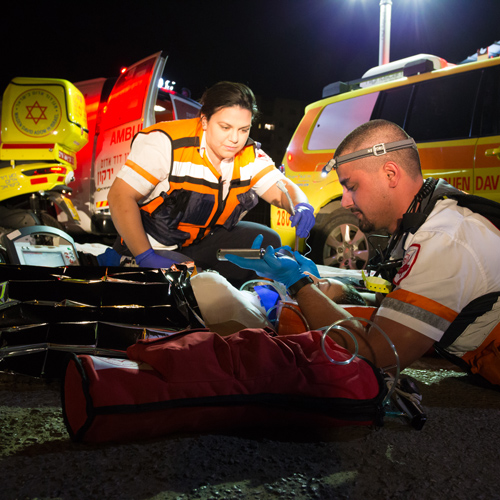 MDA gave me the will to live
Amit's day started out as usual. He never had reason to suspect that he would fall victim to a terrorist attack.
Amit was saved thanks to the advanced and timely medical care he received. Following the attack, Amit met those who saved him. He recalled: "Here I thought I was going to die, then I saw 'the Angels in White' with the red Star of David on their uniforms. Then I knew I would live". Amit met with the teams who saved him to thank them following his recovery.
---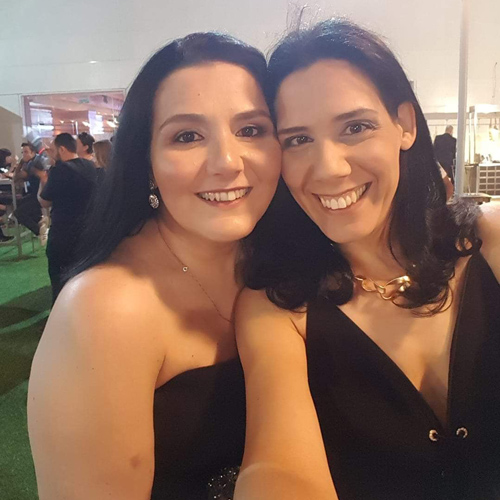 A mother returns to her family
Omrit Israelovich Shefer from western Israel was in the middle of an aerobics training course in Netanya when she suddenly went into cardiac arrest. The training hall was in panic and one of the trainers called Magen David Adom's 101 for help.
At the same time, another trainer saw an MDA ambulance on the street outside and flagged down the two EMTs inside.
Seconds later the EMTs began advanced resuscitation on Omrit, using a defibrillator to restart her heart. Less than two minutes after she collapsed, Omrit was brought back to life.
She was soon on her way to the hospital, where a special pacemaker was implanted in her to prevent this from happening again. Omrit was released from the hospital six days later.
"Thanks to the Magen David Adom team who saved my life," said Omrit, "my children have a mother today — and I am grateful for that!"