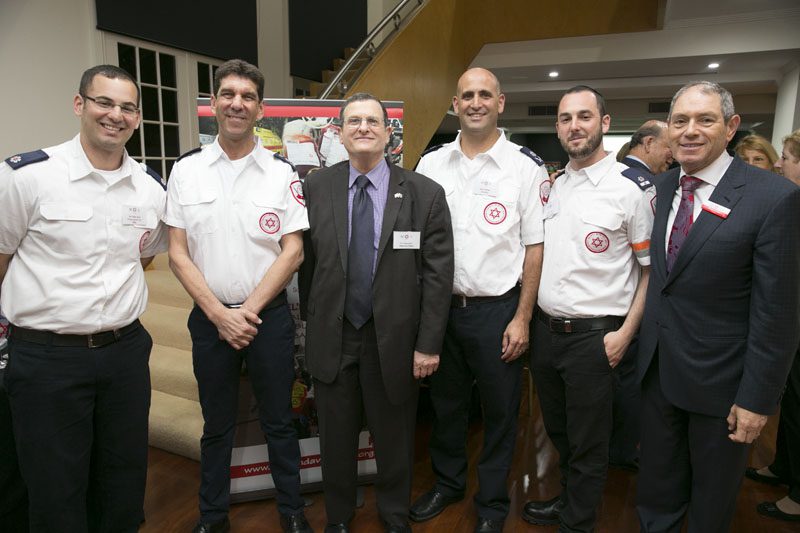 Drizzly weather did not deter guests from attending the The President's Dinner on 1st August 2016 which was graciously hosted by Harry and Rhonda Triguboff at their beautiful harbourside home. Testament to the spirit of support that fittingly prevailed on the night was the spontaneous donation of five First Responder Medicyles, by Robert and Ruth Magid, Nora Goodridge and Millie Phillips. NSW Friends of Magen David Adom was honoured to host from Magen David Adom Israel Mr Eli Bin, Director General of Magen David Adom Israel, Mr Alon Fridman, CFO and Mr Ido Golan-Gutin, Manager International Relations – Australian Liaison. President Roland Nagel warmly acknowledged the support of Mr Bin as evidenced by his presence. Mr Bin paid tribute in turn to the President's true dedication to the cause, and acknowledged the vital role of MDA's Friend societies around the world.
Speakers included MDA Paramedic Aaron Adler, once again moving those present with an emotional and honest account of the mixed emotions behind his MDA service; Sydneysider Megan Bernitz who was caught up in the attack at Sarona Market whilst volunteering for MDA in Israel; and the charismatic and charming Noa Tishby, activist and actor/who chatted with the audience about how her career led her to activism for Israel to the extent that The Jerusalem Post nominated her as one of the 50 most influential Jews in the world.
A huge thank you to all sponsors who helped to make the evening such an unmitigated success and to all donors at both functions whose generous support has enabled NSW Friends of MDA to supply Israel with a fantastic 16 Medicycles and a Bulletproof Ambulance.