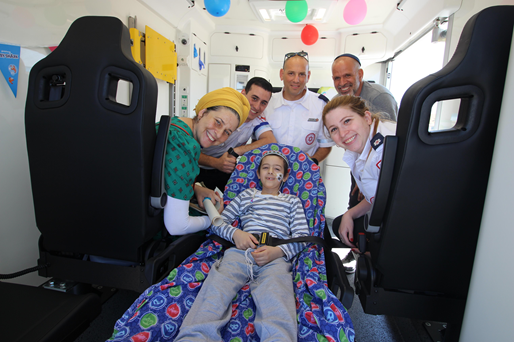 7-year-old Rafael Yotam fulfilled his dream of becoming a captain on a navy ship.
About four years ago, Rafael Yotam Cohen, who has cancer, fulfilled a dream using an MDA Wish Ambulance – and flew in an MDA-Lahak emergency helicopter in the southern skies of the country. Recently, Rafael Yotam's rare illness returned for the third time and to put a smile on his face – MDA enlisted and fulfilled another dream of sailing a Navy ship on a day full of experiences and dreams come true.
The Magen David Adom Wish Ambulance project began volunteering in 2009 and to this day has managed to fulfill the wishes of thousands of critically ill patients. A new and special ambulance has been launched these days, donated through the MDA Friends Society in Melbourne, Australia, headed by Ms. Glynis Lipson. Rafael Yotam's wish was the first to be fulfilled through the new vehicle.
The fulfillment of Rafael Yotam's first wish about 4 years ago had a positive effect on his medical condition, which improved immediately afterwards. Rafael Yotam's mother, Ravit Cohen, decided to take an active part in the fundraising campaign for a new ambulance and even participated in a campaign in Australia.
The Cohen family contacted MDA and told about the dream – and the organization immediately joined the mission and worked to make it come true.. About a week ago, Rafael Yotam (7.5), a resident of Neta in the Lachish region, the youngest of seven brothers and sisters in his family, fulfilled his dream. He arrived by MDA's new Wish Ambulance at the naval base in Ashdod, where officers and fighters of the Navy's Shaldag ship were waiting for him with excitement and special refreshments and surprises. As part of the special day, Rafael Yotam met the soldiers and officers of the navy, received an explanation about the ship and the weapons placed in it and even set sail while sitting in the captain's chair and holding the rudder.
The ambulance includes full intensive care mobile equipment, the first and only electric bed of its kind in Israel adapted for critically ill patients, a special place for attendants and even a special medicine refrigerator. The compartments in the ambulance are hidden, in order to reduce the level of stress among the passengers and simulate normal driving conditions. The ambulance includes a place for the driver, two staff members, a patient and three accompanying family members.
The first wish in the new ambulance was accompanied by paramedics Tomer Bar-Levi and Shachar Hezkelevich and the paramedic Yonat Daskal-Dagan who accompanied Rafael Yotam also on his first wish: "I am doubly excited – both from the fulfillment of Rafael Yotam's wish and the launch of the new ambulance. " When we set out on a journey in Australia, Yotam recovered after the first wish, we were very saddened to hear that he was ill again. We created a special day in order to put a smile on his face, at least for a few moments. I thank the Navy for enlisting in the special mission and we wish him complete recovery and full health."
The captain of the ship, Captain Peleg, who hosted with his soldiers, wished Rafael Yotam health and said: "We are very, very excited and happy that you came to sail with us. Thanks to children like you and your family we do what we do, you give us the strength to keep going, thank you very much."
Ravit Cohen, Rafael Yotam's mother, said: "Already at the fulfillment of the first wish, we became very connected to the MDA family and the staff of the Wishes ambulance – and we remained in close contact. After Rafael Yotam recovered, I flew to Australia to promote donations to MDA's new ambulance and to my delight the donations were successfully raised. We asked him what he would like to do and he answered – to sail a ship. "MDA immediately organized the special day with the Navy, which was charming and extraordinary. The experience was amazing – the soldiers hugged us and were cordial and prepared special gifts for Rafael Yotam. He was happy and excited, and told everyone who het met about the past experience."
On the fulfillment of the special dream, Rafael Yotam concluded: "I had a lot of fun and I want to be a captain now. I wander around the house all day with the flag I received from the soldiers, like Superman. Thank you all."