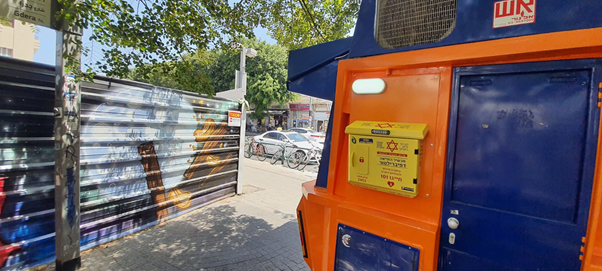 Last week, a man collapsed in the Carmel Market in Tel Aviv. MDA's 101 emergency call center was immediately contacted and began the process of saving his life with the help of an emergency defibrillator stored on the side of a Mifal HaPais lottery booth.
After emergency call center EMT, Yuval Kadishi, realized that the man had gone into cardiac arrest, she identified (on MDA Command and Control System) a nearby MDA public domain defibrillator placed on a lottery booth, held for dire situations such as this one. Kadishi remotely unlocked the defibrillator box and instructed the caller to retrieve the AED and bring it to the patient's location. While the caller did so, Kadishi launched nearby MDA first responders and a Mobile Intensive Care Unit. She remained on the line and MDA EMT Zeev Fishman who had been shopping in the market arrived at the scene.
After the resuscitation, Fishman said:
"While shopping with my wife and child at the market, I got a call on MDA's first responders app about a man who collapsed nearby. I immediately ran to the scene, they signalled me to get to one of the stalls where a 43-year-old man was lying unconscious with no pulse and not breathing. With the help of the people who were there, and within 2 minutes, they brought me the MDA public domain defibrillator that had been installed recently, with the help of the Mifal HaPais Lottery, on their booth, on a nearby street. I connected the AED to the patient; it gave several electric shocks and immediately afterwards his heart began to beat again. The man woke up and wondered what was going on around him and asked to remove the oxygen mask from his face. MDA's MICU team continued with medical treatment and evacuated the patient to the ICCU in Ichilov Hospital in stable condition."
"Once again, it has been proven how important the defibrillator devices connected to the MDA hotline are accessible to anyone in the public space. There is no doubt that the availability of the device significantly helped save the life of the man who collapsed," said EMT Yuval Kadishi.