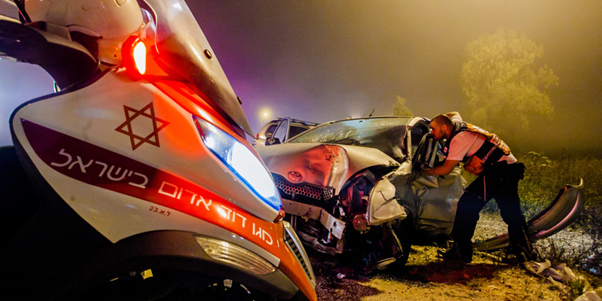 An Israeli insurance company is capitalizing on technology developed by Magen David Adom and Israeli tech startup MDGo that will automatically notify MDA when vehicles owned by the insurer's clients are involved in accidents.
The insurance company, Direct Insurance, and MDA both see the technology as a potential lifesaver, saving crucial minutes by instantly notifying the EMS organization of car crashes, an important consideration when drivers are rendered unconscious in the crash and are unable to call for medical help themselves.
Even when serious auto accidents are witnessed by passersby, there's a period of confusion and people assessing their own injuries in which as much as five minutes typically elapses before someone has the presence of mind to call for an ambulance. MDGo and MDA's technology will eliminate that issue.
The technology not only informs MDA and Direct Insurance about the location of the crash, but accurately predicts the nature of the passengers' injuries based on impact and vector data. As a result, paramedics and EMTs are not only arriving faster, but better informed about the treatment they'll need to administer at the scene.
"Based on the vehicular impact, [our technology] alerts arriving EMTs and the hospital to injuries the patient may have sustained, but which may not be immediately apparent," says Itay Bengad, MDGo's co-founder and CEO. "This enables earlier interventions and prevents potentially fatal complications that can result from leaving undetected injuries unaddressed for hours — or even days."
MDGo developed its crash-detection technology using Magen David Adom's own cutting-edge capabilities, including MDA's ability to instantly geolocate cellular phone callers. "Because we've developed almost all our [EMS] apps ourselves, we've become an incubator for startups," says Ido Rosenblat, chief information officer for MDA. "The result is that MDGo and MDA are working to save lives together."