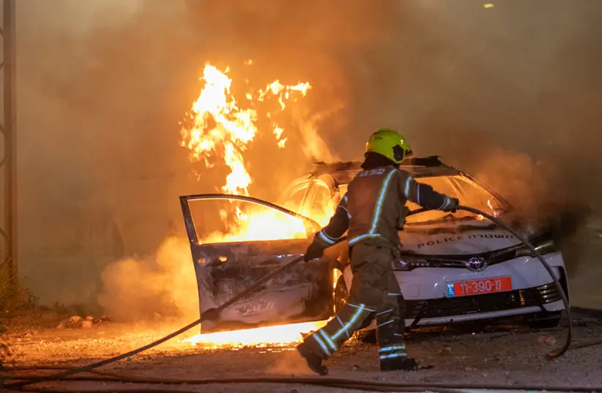 Riots spread across several cities throughout Israel with mixed Arab and Jewish populations.
Some 374 people were arrested throughout Israel following intense Jewish-Arab violence and riots that erupted across the country on Wednesday, amid the ongoing fighting between Israel and Hamas in the Gaza Strip.
A Jewish citizen in his 30s was in critical condition after he was attacked by a mob of Arab demonstrators near Egged Square in the city of Acre. Police said he was attacked in his car by Arab Israeli protesters armed with sticks and stones.
Magen David Adom staff evacuated him to the Galilee Medical Center in Nahariya unconscious, in serious condition and suffering from a head injury.
Senior MDA medic, Firas Reis, said that "We were near the area when we saw the wounded man lying unconscious and suffering from a bleeding head injury. We immediately began life-saving medical treatment that included bandaging and breath support and evacuated him in stable condition for further treatment at the hospital."
In another incident, in the Tel Aviv suburb of Bat Yam, Jewish extremists marched down main streets, smashing Arab-owned businesses and attacking passersby. One motorcyclist – identified as an Arab – was grabbed in the middle of the street and beaten on live television. Four of the alleged attackers were arrested while chanting "death to Arabs" and "may your village burn."
Kan News reported that a Jewish man in his 30s was lynched by protesters who mistook him for an Arab. He was evacuated to the hospital and his condition is classified as serious, but stable.
Bat Yam Mayor Tzvika Brot said of the riots that "The acts were organized by provocateurs who came from outside the city. This is not our way."
Sephardi Chief Rabbi Yitzhak Yosef, one of Israel's two chief rabbis, appealed for restraint in response to the violence, saying "We must not be dragged into provocations and inflicting harm on people or property."
"The Torah of Israel grants no license for taking the law into one's hands and acting violently," he added.