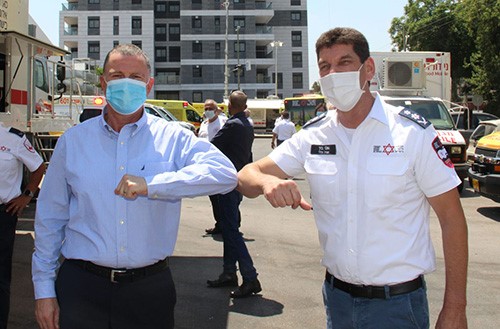 "Emergency medicine in the State of Israel is in good hands"
The Minister of Health, MK Yuli (Yoel) Edelstein (Likud), visited the Magen David Adom National Operations Center in Kiryat Ono and was accompanied by MDA Director General Eli Bin and the organization's senior management. Minister Edelstein received a comprehensive overview of the organization's activities, a tour of the emergency call center and learned about the extensive activities led by MDA, as Israel's national emergency medical and blood services organization, including those to mitigate the spread of Corona virus in Israel.
During the visit, the Minister of Health learned about MDA's activities and received and in depth review of the organization's response to the corona crisis as well as the routine incidents. The overview included an emphasis on the 420,000 samples taken by MDA teams in the nursing homes and long-term care facilities. In addition, he received an explination of MDA's Blood Services program to collect plasma units from those who have recovered from the corona virus. To date, 970 units have been provided to 500 patients in moderate and severe condition around the country.
An additional project of interest was the placement of AEDs in public places. These AEDs are connected to MDA's 101 emergency call center and allow the public and those without prior medical training to provide CPR and electric shock to save the life of a person suffering from cardiac arrest.
The Minister heard about the MDA 2020 project (MDA in the Community), which improves MDA's treatment and is expected to alleviate crowding in the emergency rooms in the future. The Minister toured the Mobile Command and Control Vehicle and the organization's special intensive care bus. In addition, Minister Edelstein was privy to the many technologies developed in the organization including the automated dispatch model and the unique vehicles operated by MDA, including ambulances, medi-cycles, electric bicycles, blood mobiles and even test drove MDA's ATV.
Minister of Health, MK Yuli (Yoel) Edelstein: "I was honored to be hosted by our dear partners at Magen David Adom. I learned about the complex activities of the organization both during routine and during corona. Many of the healthcare system's needs would not have been cared for it not for MDA's assistance and execution of a wide variety of activities. The activities included not only routine evacuations of patients but taking test samples, operating the "Drive and Test" facilities, assisting with the elderly population and more. We will certainly continue our productive cooperation. I have seen the impressive technological capabilities, cooperation with other rescue organizations and I am confident that the emergency medicine in the State of Israel is in good hands. We will continue to further our cooperation between the Ministry of Health and Magen David Adom."
MDA Director General, Eli Bin: "I congratulate Minister Edelstein and thank him for devoting his time to visiting Magen David Adom. We have known the Minister for many years and cherish his many years of cooperation with us. We thank him for his Zionist activities and work. The Minister met with the volunteers and staff who are at the forefront of the national struggle to prevent the spread of the Corona virus. I sincerely hope that we will continue to work hand in hand, with the Ministry of Health towards calmer days and the end of the second wave."