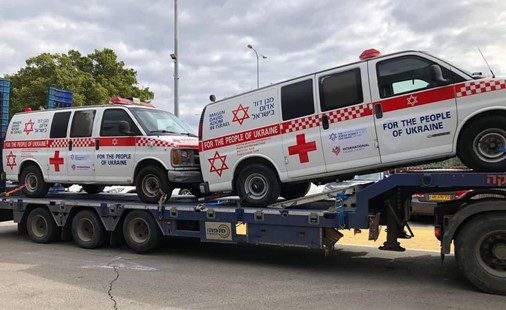 Over & above our usual operations in Israel, Magen David Adom is working tirelessly to assist and support the emergency work in Ukraine and to provide urgent care to those arriving in Israel, many of them holocaust survivors requiring immediate medical attention. MDA's ongoing emergency operations include:
Armored ambulances sent to Ukraine – Due to the fighting in Ukraine and the need for immediate medical aid, Magen David Adom has airlifted four bullet-proof ambulances to Ukraine. Assisted by MK Alex Kushnir (Yisrael Beitenu) and the Jewish Agency, and thanks to a donation from Christian supporters of Israel in Korea and other bodies who are assisting with the costs of shipping, MDA flew the bullet-proof ambulances to Poland which then crossed the border to Ukraine to assist the local medical teams in the field who are treating the injured in Ukraine.
Humanitarian Call Centre – MDA has established the Humanitarian Call Centre for Ukraine refugees. MDA is receiving calls from Israel and overseas from those who require humanitarian aid, are looking for lost relatives, or who are stuck in Ukraine and are trying to get to Israel.
Triage clinic in Kishinev, Moldova – MDA Paramedics will be setting up a clinic for refugees in Kishinev for treatment
National Mobile Command and Control Centre – The Centre is manned with Russian and Ukrainian speaking Israelis to help coordinate evacuation plans and provide assistance to Jews in Ukraine. If a caller requires medical assistance, an ambulance is dispatched. MDA is working closely with the Red Cross to bring everything together as a point of contact for many people effected by the war in Ukraine
Wounded refugees and Holocaust survivors are being airlifted to Israel for treatment – Magen David Adom is supporting those arriving from Ukraine, some of whom need immediate and urgent medical attention as soon as they step off the plane.
MDA and the Red Cross MDA Paramedics with the assistance of Red Cross ambulances are transporting patients from Odessa to Moldova for treatment
Field hospital in Lviv, western Ukraine – Russian and Ukrainian-speaking MDA staff have been deployed to the Poland-Ukraine border to set up an emergency field hospital in Lviv with capacity for 4,000 people. The hospital is now operational! Others, will operate a virtual emergency training centre for Ukrainian doctors and medical students, sharing their vital expertise when it comes to providing medical care in this warzone. This is a joint project by the Israeli Ministry of Health and Magen David Adom
100,000 refugees and Ukrainians making Aliyah – Whilst MDA is undoubtedly busy with the current influx of refugees, there is a real sense that this is the calm before, what Prime Minister Naftali Bennett predicts will be the greatest wave of Aliyah in Israel's history; potentially 100,000 people.
MDA colleagues are working around the clock to be ready for what is on the horizon.