by David Freed
I attended the Magen David Adom International Conference in Israel
this month, which was my first conference as the CEO of Australian
Friends of Magen David Adom, since I joined in October 2021.

I would like to share my experiences and emotions with you as I
reflect on the events and occasions I was involved in while in Israel.
There were many mixed emotions, from the joy and honour at being
at the Opening Ceremony of the Marcus National Blood Services
Centre in Ramla – a first in its type, world-class building to protect
the blood supply of Israel; the eerie sound of the Yom Hazikaron
two minute siren and standing silent in the middle of a major road in
Tel Aviv with cars just stopped around me; in juxtaposition, the
madness of people being everywhere enjoying the excitement, fun
and uniqueness of Yom Ha'atzmaut; the sense of purpose and
fulfilment performing a shift in an MDA ambulance and helping a
patient to hospital and the sick feeling in my stomach, when we
were told we were 20 minutes away from the terror attack in Elad
from our MDA gathering nearby.
What made the difference for me while in Israel, was knowing that
Israel's second line of defence, Magen David Adom was there. I
knew a medicycle, ambulance and the 26,000 volunteer
paramedics, EMTs and medics on call would be at an incident in
less than a few minutes! The 30,000 men and women behind MDA
are amazing, dedicated, passionate and fearless people and I got to
know some of them – that was the biggest mitzvah.
I am sharing below the key highlights of my experiences.
I would love to hear your experiences and emotions if you have also
been to Israel at this time of year as this is a unique experience.
Opening of the new Marcus National Blood Services Centre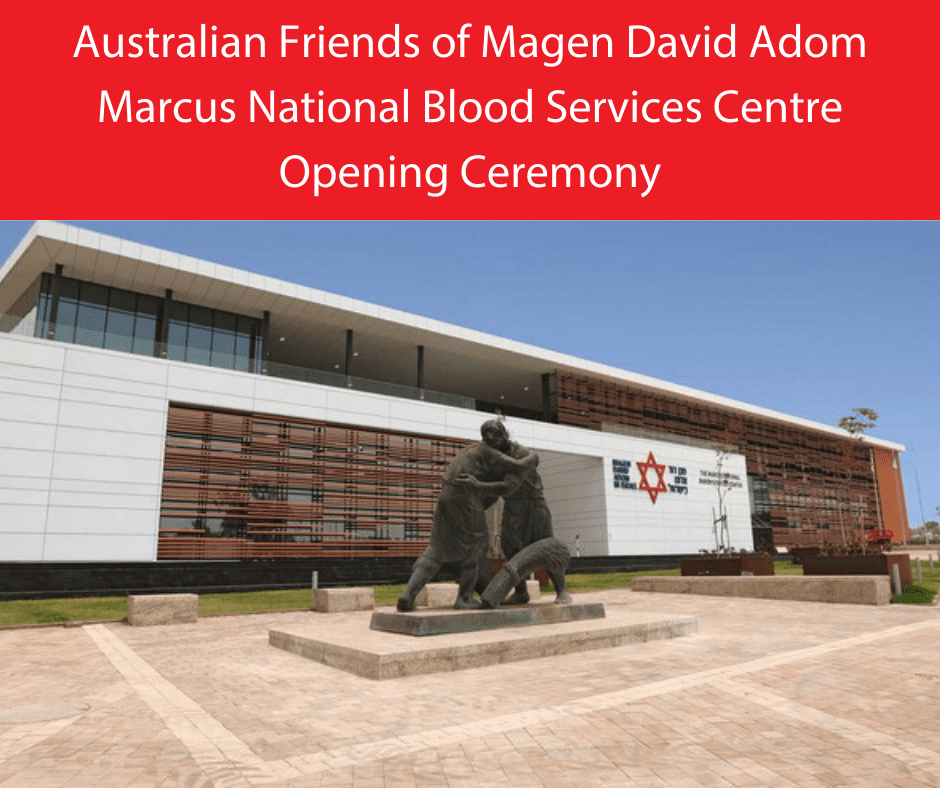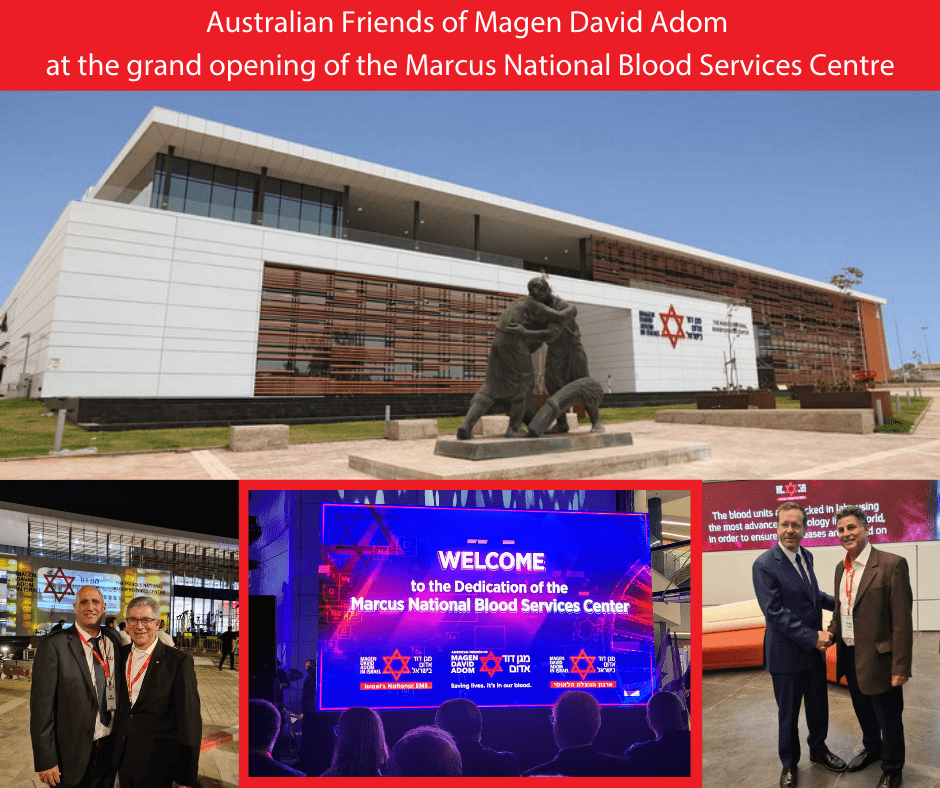 I attended the inauguration ceremony of the new Marcus National
Blood Services Centre with our President Tony Ziegler and Director
of Operations, Rivkah Lazarus. I had the honour of meeting and
shaking hands with President Isaac Herzog and meeting Health
Minister Nitzan Horowitz, and other dignitaries who attended the
inauguration ceremony at the facility in Ramla, central Israel.
Australian Friends of Magen David Adom are honoured to
contribute to this historical project, Israel's opening of the world's
most protected (cyber, earthquake and rocket proof) shielded blood
bank, a $US135M project which will oversee the production, storage
and treatment of all of Israel's blood supply, for both civilians and
the military. The Centre also houses the Milk Bank, funded by our
donors which provides breast milk to premature and seriously ill
babies in Israeli ICU's, including babies whose mothers are unable
to breastfeed because they are in critical care themselves.
The new Marcus National Blood Services Centre is the only one of
its kind in the world and will become fully functional in the next few months.
I thank all our donors who generously contributed to the centre and
to everyone who helped make this lifesaving critical project
possible!
Yom Hazikaron – Remembrance day
During the conference, the Yom Hazikaron Remembrance Day
ceremony was held in the new Marcus National Blood Services
Centre, attended by worldwide MDA representatives, MDA Israel
personnel, dignitaries and MDA volunteers and workers from the
Ayalon region.
I was moved by two families who told their story of how they lost
their young ones to terror attacks – their pain was deep, and I don't
think there was a dry eye in the auditorium. These were family
members of young MDA volunteers. There was a deep feeling of
love and respect for their commitment as young MDA volunteers
who left this world too soon. The overwhelming feeling in the room
was one of unity in the fight to save lives.
The ceremony concluded with the two-minute siren and everyone
singing Hatikvah.
Watch the Yom Hazikaron video of the two minute siren and
standing silent in the middle of a major road in Tel Aviv with cars
just stopped around me!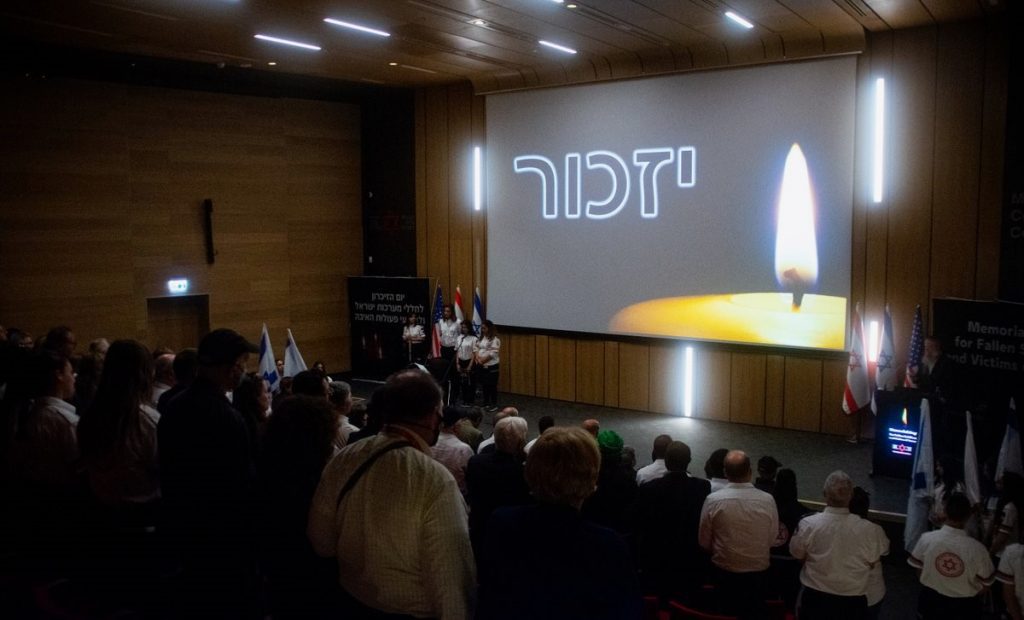 Yom Ha'atzmaut – Israel Independence Day
I was very fortunate to have the opportunity to join in the national
celebrations on the streets of Tel Aviv, from watching street
performers during the day (including a re-enactment from
the historical home of Ben Gurion) to joining in the ongoing
celebrations in Dizengoff Street late at night with the team and
donors from MDA UK. This is a very special time of the year to be in
Israel and it is a must do if you're in Israel in May, encompassing
the lows of Yom Hazikaron through to the highs of Yom Ha'atzmaut!
In the background, as Israel celebrated 74 years of Independence,
MDA EMTs and Paramedics were positioned at 322 festivity
locations throughout the country, activating 131 Mobile Intensive
Care Unit (MICU) ambulances, 346 basic ambulances, 48
Medicycles, 12 All-Terrain-Vehicles (ATV) and paramedic
supervisor vehicles.
During the celebrations, MDA teams treated and attended to
emergency calls for help including the terror attack in Elad where
three people were killed and four injured.
Locally, our team in Australia participated in the Zionist Council of
NSW's Yom Ha'atzmaut fair together with hundreds of members of
the Sydney Jewish community who stopped by and showed their
support to Magen David Adom. Our Medicycle was at the event and
was a big hit!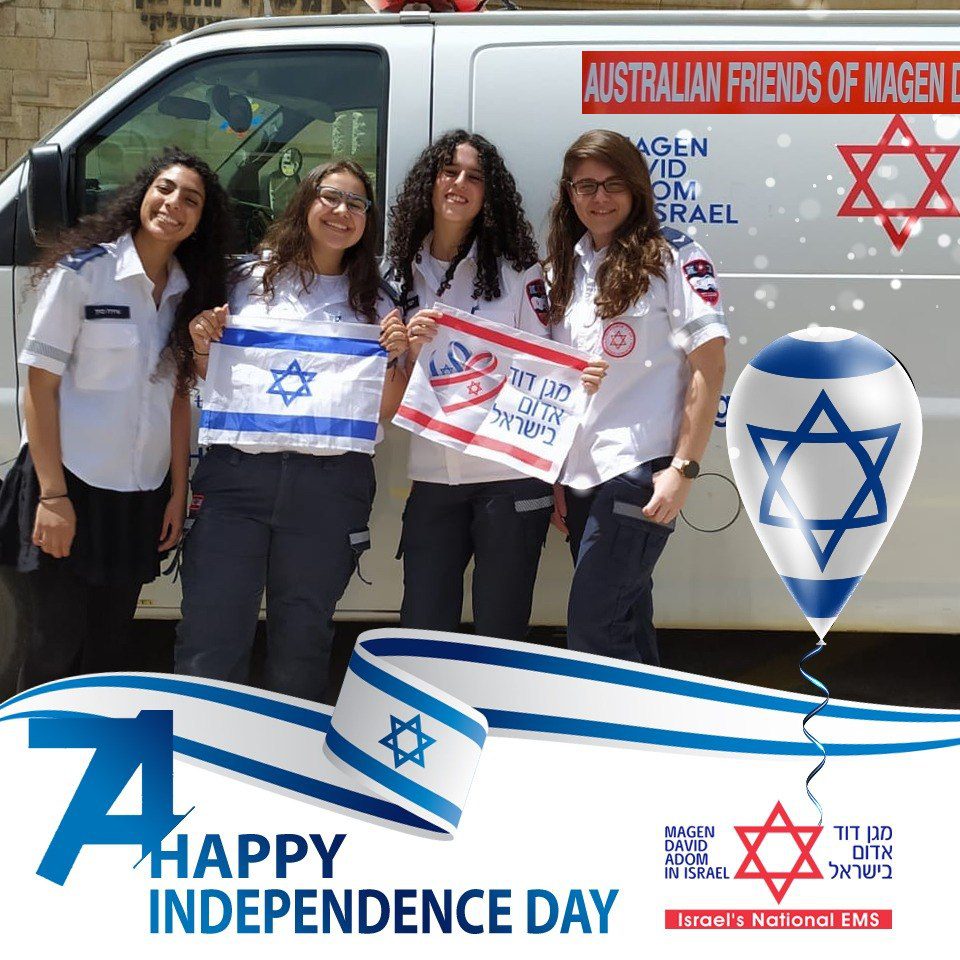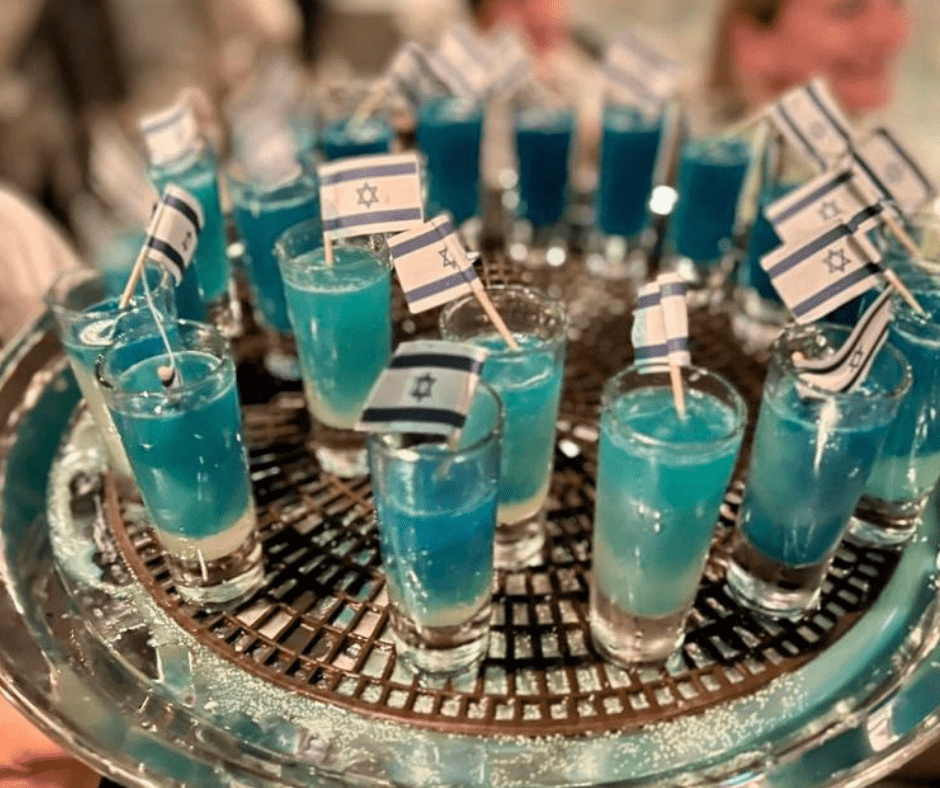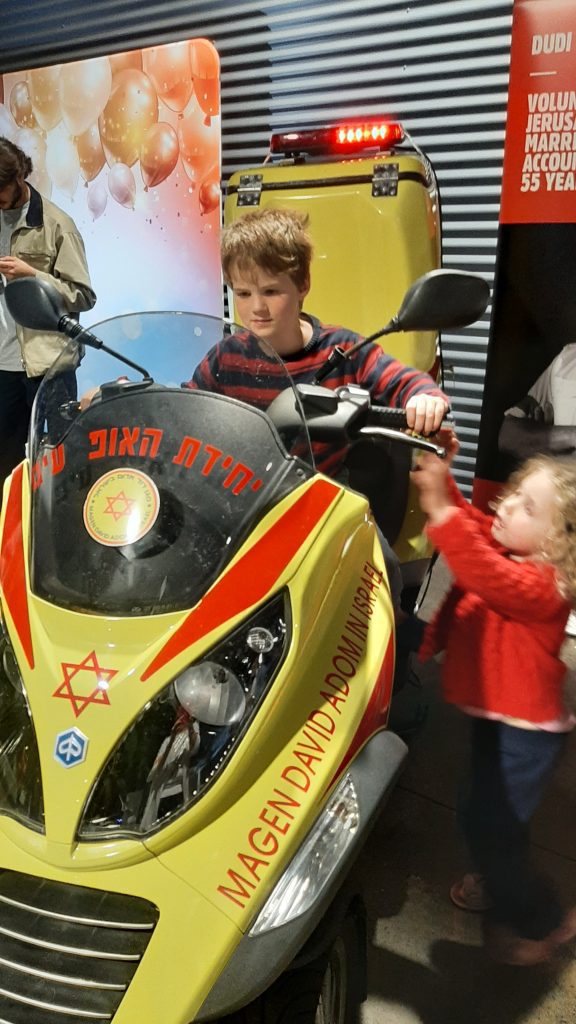 Ambulance Shift
I was fortunate enough to have the opportunity of joining an ambulance shift on a Mobile Intensive Care Unit (MICU).
The feeling that you are a part of a team, helping fellow Israelis, regardless of who they are is so intense and meaningful, it goes directly of the heart to the human spirit.
That spirit is the essence and core of MDA.
This is what drives us to continue to support MDA and their initiatives.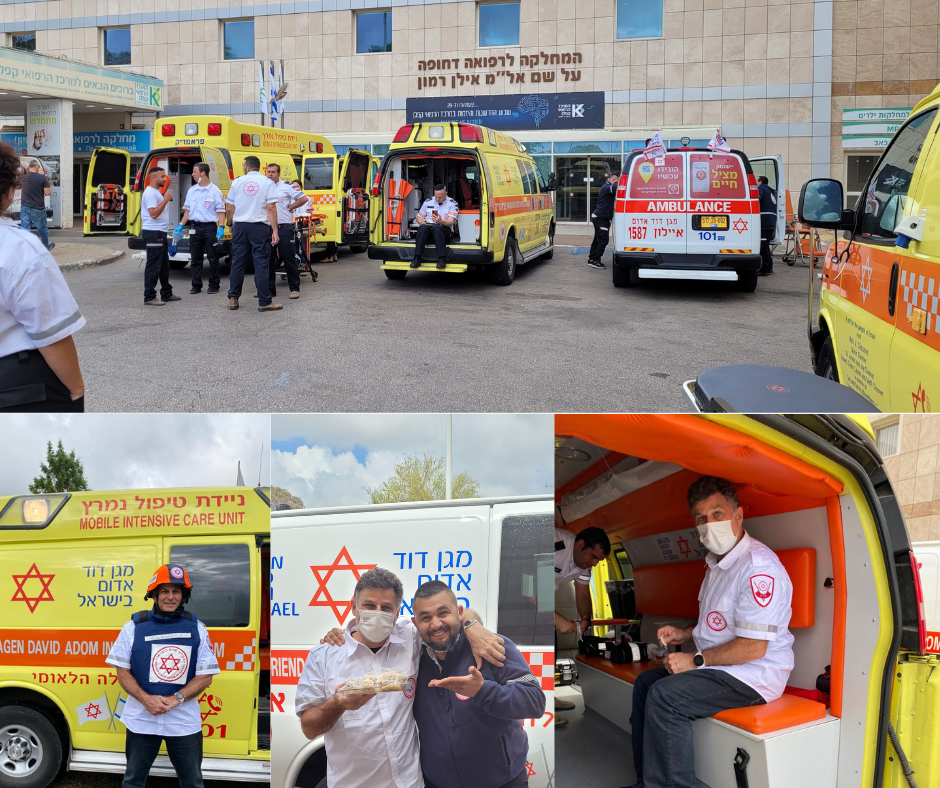 Responding to terrors attacks
While I was in Israel, there were two attacks, one 20 minutes from where we were staying for the day and the other about one hour away.
Those attacks saw MDA teams respond within seconds and treat and transport victims to hospital. MDA's paramedics and EMTs are always on high alert!
What is remarkable is the Israeli spirit – even though we were on Dizengoff Street some weeks after the attack, Israelis were out in numbers.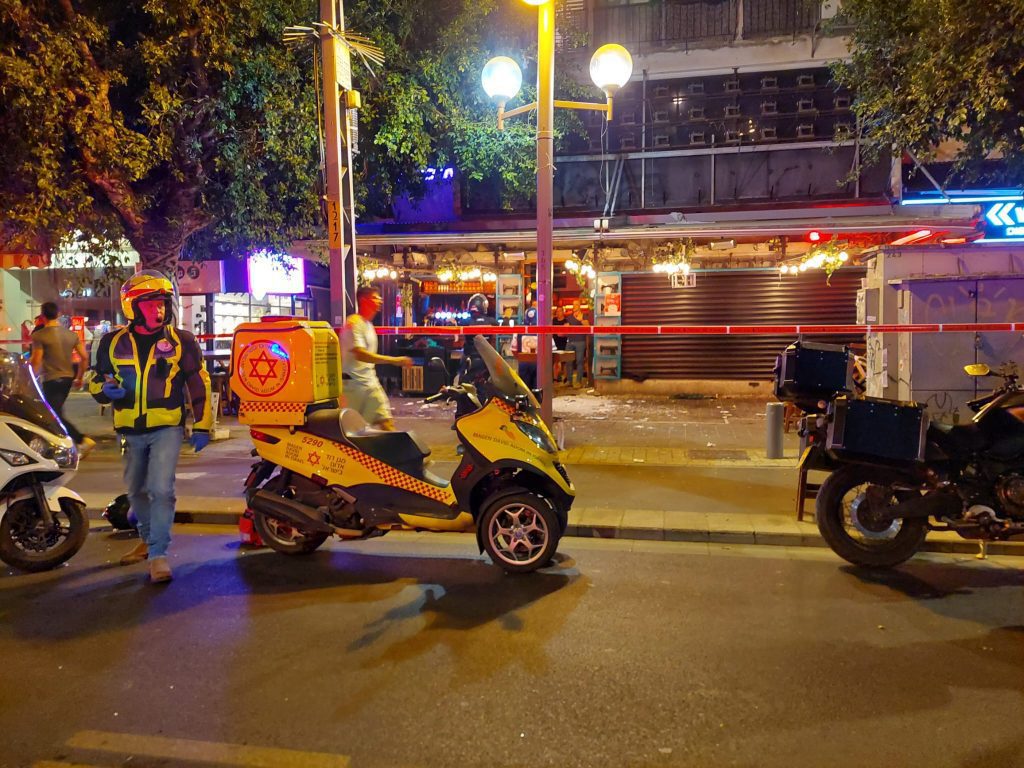 MDA's lifesaving work never stops
Now that I have experienced Israel through the lens of an MDA paramedic, I am immensely proud of the MDA teams who continue to work day and night on their routine activities, attending to emergency calls for help, no matter the race, religion or ethnicity of the person in need.
Our mission is to save lives and I thank you for your ongoing support to help us achieve this.