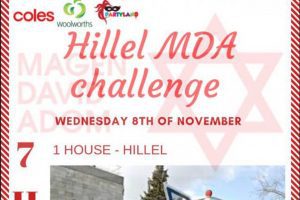 On Wednesday 8th November Year 7 – 11 students from Hillel House hosted a charity quadrathlon event, strengthening their wonderful relationship with Magen David Adom. The proceeds raised from the event will go to Magen David Adom.
As part of the charity initiative, Hillel students collectively ran 88km (Golan Heights) on a treadmill, rowed 110km (Lake of Galilee) on a rowing machine, cycled 156km (Haifa to Jerusalem) on a stationary bike and hiked 30km (Jerusalem Trail) on a cross-trainer all in just 7 hours.
They raised almost $4000 on the day, matching their incredible effort from last year's event. The funds will be used to purchase vital life-saving vehicles and equipment in Israel.
Thank you to Moriah College, Hillel House for organising and especially to all of the students who participated, helping to save even more lives.