Lives may be saved by a remarkable and generous initiative. The immediate beneficiaries are the students and staff of Masada College. However, in the long run, the beneficiaries could be you, your child or grandchild.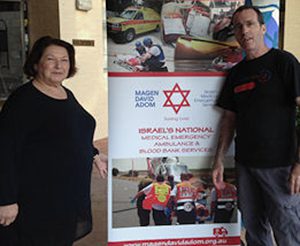 Last year, nearly 100 high-school students and staff attended an on-site Magen David Adom First Aid course. The course was heavily subsidised by Mrs Agnes Matrai (pic left with MDA's Tim Cohen), who continued her sponsorship into 2016 in order to ensure that many more children would benefit from having this essential training.
"All young people should know how to administer First Aid skills. All schools should have First Aid training for their students," said Mrs Matrai, who approached Masada with her strong belief that children should receive this training.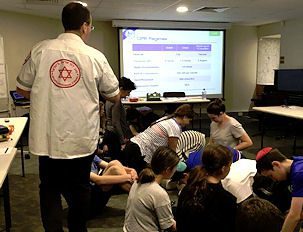 An MDA First Aid trainer commended Mrs Matrai's vision. "Children are intelligent and capable. They are often in situations where the nearest adult is not immediately to hand, but they are in the right place to be able to help out in case of an accident. It is important that they know what to do. This also gives them a sense of confidence and security and builds their self-esteem," he said. "The fact that Agnes Matrai has taken it upon herself to educate school students in life-saving skills is an amazing and wonderful thing. It's the kind of altruism one doesn't see that often."
Why did Mrs Matrai specify that the training be done through MDA?
"First Aid training through MDA does two things," she explained. "It gives the young people the necessary skills and you're doing it for Israel at the same time. It's very important to remember both these things. Every Jewish school and Jewish organisation should have First Aid training through MDA."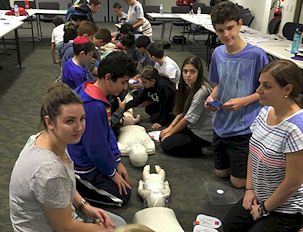 Mrs Wendy Barel, Masada College Principal, reports that the venture has been a success on all fronts, with nearly 200 students having been trained so far.
"Masada College is delighted to be able to offer our students and staff the opportunity to have First Aid Training through MDA on a very regular basis. Masada parents recognise the importance of the knowledge and lifesaving skills that are provided by the course and are, along with staff at the College, actively encouraging their children to attend these holiday courses. Students themselves regularly initiate their own participation and enjoy the courses which are run with a sense of humour, while still emphasising the significance of the course in possibly saving lives."
With her dream of every Jewish school and every Jewish organisation giving their people First Aid skills and helping Israel by doing it through MDA, Mrs Matrai has issued a challenge: "I call on others in the community to sponsor this training in all Jewish schools and organisations so that everyone has this dual opportunity."
"We are so moved by Mrs Matrai's vision and generosity," said MDA NSW President Mr Roland Nagel. "We hope the community takes up her challenge to make First Aid Training and MDA a part of everyone's life."