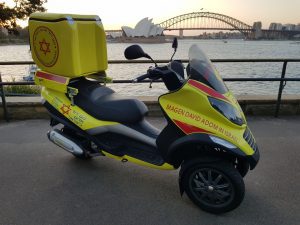 Australian Friends of Magen David Adom has recently created their very own first responder medicycle, an exact replica of the bikes used in Israel.
The medicycle will be touring local schools, synagogues and community events, helping to showcase the vital work of MDA in Israel.
Recently the medicycle has featured at Moriah College and Bellevue Hill Public Scholl with many others to follow. The students were absolutely thrilled to have the opportunity to sit on the bike and jump into the shoes of our paramedics and dedicated volunteers.
"The presence of the bike was invaluable as it heightened the kids' natural curiosity, motivated them to engage and ask questions. Interactive experiences like this will help foster a genuine connection with not just the work of MDA but with Israel" – Doron Lazarus CEO, Australian Friends of Magen David Adom.
For more information or to arrange a medicycle visit please contact Rivkah Lazarus on (02) 9358 2521 or events@magendavidadom.org.au.