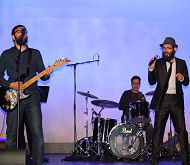 The Gold Coast Arts Centre, on the 6th June, was the venue for a concert by Jewish singing duo 8th Day.
Brooklyn brothers, Shmuel Marcus and Bentzy Marcus, entertained the audience of over 120 people, with all proceeds going towards urgently needed medical supplies for Magen David Adom in Israel.
The event was MC'ed by Sharon Malecki who introduced guest speaker, Glynis Lipson, MDA Victoria's Co-President. Glynis talked about the work of MDA in Israel and abroad and screened a moving DVD.
Special thanks go to Henry Malecki for arranging a
great event.