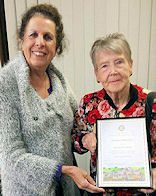 After many years of dedicated service to Magen David Adom Western
Australia, Brenda Buchanan has retired as our Honorary Treasurer.
At our recent 2015 Annual General Meeting, MDA Western Australia President,
Josephine Orya, presented Brenda with a Certificate of Appreciation for
her many years of dedicated work for Magen David Adom.
Once again, on behalf of Magen David Adom and the people of Israel,
we say, "Thank you Brenda!".