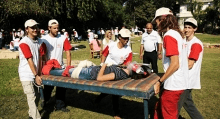 Everyday objects, household items and salvaged rubbish have been transformed into potentially life-saving equipment by youth volunteers in Israel.
Quick-thinking in an emergency was at the heart of first aid training being run by Magen David Adom (MDA) in Nehalim, central Israel, earlier this month.
As part of its large-scale earthquake preparedness programme, MDA has introduced the innovative training to equip youth volunteers with the skills they need to think on their feet when disaster strikes and traditional first aid equipment isn't available.
The teams were put to the test in an emergency simulation where a ladder, old clothes, plastic bottles and other debris are all that are on hand to provide a stretcher to transport the injured, dressings for wounds and splints for suspected fractures.
MDA's disaster management coordinator Chaim Rafalowski says teaching the art of improvisation is vital for volunteers who routinely reply on their modern equipment and first aid kits.
"It is not just a matter of teaching first aid skills but we also have to change the mind-set of our volunteers," he said.
"This training forces the youngsters to think outside of the traditional first aid box. The participants find it very creative, saying that this is one of the best training experiences they ever had," he continues.
A flexible approach to first aid provision is rooted in the community-based methodology of the Red Cross and Red Crescent Movement. It was originally aimed at members of local communities who were trained to provide first aid in disasters by using the things they have to hand.
MDA's 'First aid in austere environments' learning module was launched last year and has seen 2,000 volunteers go back-to-basics and adapt to emergencies.