Magen David Adom is proud to participate in Israel's National Drone Initiative, testing the ability to deliver blood, platelets, and plasma to two Tel Aviv hospitals via drone. The goal is to verify the method of packaging, product quality during flight, and procedures to ensure they meet Ministry of Health regulations. If the project proves successful, blood products could be delivered by drone to hospitals across the country when needed.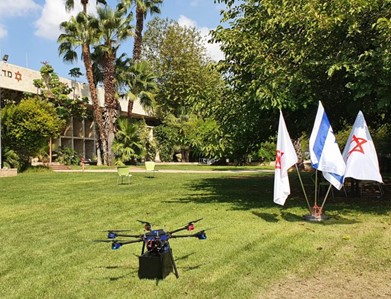 Drones delivered sushi, beer and ice cream orders to waiting members of the media right off the Tel Aviv coast on Monday as part of a government-led initiative to create a national drone network and pilot drone flights for deliveries across Israel.
The National Drone Initiative entered the third of eight planned phases in the pilot program last week, launching a 10-day demonstration to test drone flights above urban areas. In this new stage, the drones will have carried out around 300 flights a day above open areas for different tasks such as testing the autonomous systems, analysis of in-air behavior, delivering food at a drop-off point, and even delivering donated blood from the Magen David Adom blood bank in the Tel Aviv area to the Sheba Medical Center at Tel HaShomer Hospital right outside the city.
Read the full story on The Times of Israel: