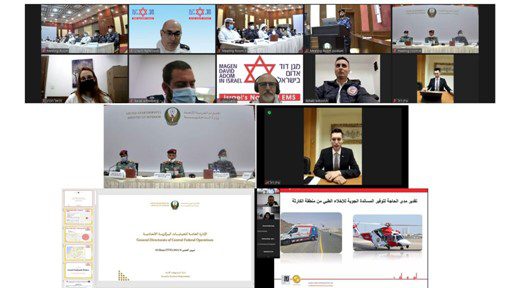 As a result of the historic Abraham Accords peace agreement between Israel and the United Arab Emirates, this week a joint training took place between Magen David Adom and the Emirati National Ambulance Service. The exercise was conducted virtually with observers from the Netherlands, Italy and France.
The simulated multi-casualty scenario involved a bus accident in an isolated location with challenging terrain and weather conditions, causing dozens of injuries. The goal was to improve emergency preparedness by sharing experiences and knowledge. Each organization explained their disaster management protocols and discussed treatment methodologies, raised dilemmas, presented solutions, and learned from one another.
Spokespersons from both organizations noted the importance of cooperation and the fact that communities in both countries rely on emergency organizations to provide a quick, efficient and professional response during emergency events.
"We shared the knowledge, technology and experience we have accumulated over the years, and learned a lot about the challenges faced by our Emirati friends who presented innovative capabilities and means," said Eli Bin, MDA's director-general.
"It is about sharing knowledge and mutual learning, which is at the core of our constant aspiration to improve the ability to save lives."