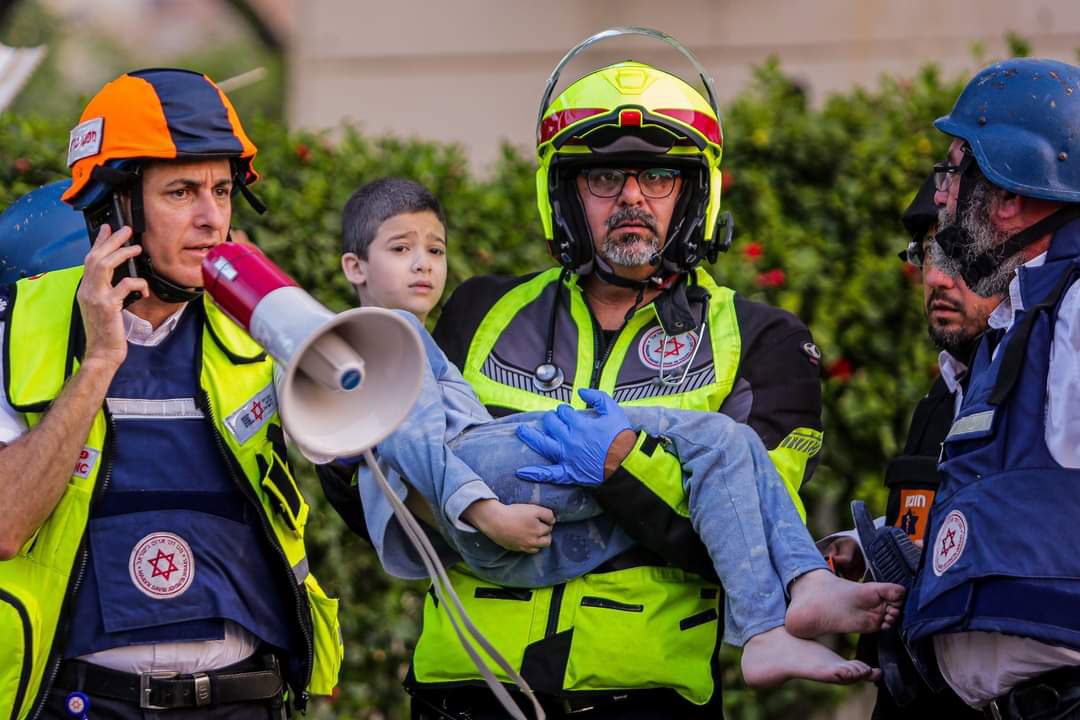 As we approach the High Holidays of Rosh Hashanah and Yom Kippur, we look back on another COVID ravaged year, both here in Australia and also in Israel.
Magen David Adom has been and remains at the forefront of the fight against COVID-19. MDA has conducted more than five million tests, given more than a million vaccinations, including to employees and residents of all the nursing and retirement homes all over Israel.
All this is in addition to Magen David Adom's regular work of saving lives in all manner of medical emergencies from car accidents to heart attacks, drownings, electrocutions and much more.
We remember the disaster in Mt Meron, where many people tragically died. Before the event, Magen David Adom held drills simulating disasters such as a fire or stage collapse at the event, and their presence in large numbers significantly reduced the loss of life, and enabled the rapid transfer of the injured to hospital.
If COVID and Mt Meron weren't enough, in May, Hamas and other Palestinians launched thousands of missiles at Israel, causing multiple casualties and much damage to buildings and other property in Ashdod, Ashkelon and other cities. Magen David Adom was there to help the wounded, and also thousands of traumatized Israelis in shock from all the rockets landing nearby and striking apartment buildings, schools, kindergartens, oil refineries and even the power station which provides electricity to Gaza!
Exacerbating these events was the rioting by Arab Israelis in many mixed cities usually known for their peaceful co-existence, such as Jaffa, Lod, Acre, Haifa as well as in Tel Aviv, Jerusalem and elsewhere.
Regrettably, many of these rioters damaged Magen David Adom vehicles, leading to a dozen ambulances having to be written off.
We are very grateful to our Patron Mr Robert Magid, Mrs Ruth Magid and Mrs Nora Goodridge who donated 2 ambulances, and Mr Rick & Mrs Jacqueline Abrahams who also donated an ambulance. Thank you, these are all going to save many lives in Israel.
Thank you to all our supporters who were able to join our online event in August as well as our emergency campaign during the Gaza war. Thanks to you, we were able to purchase a 4th ambulance. In addition to our update on Magen David Adom in Israel, we were honoured to have as our guest speaker the former Special Forces Australian soldier Damien Thomlinson, who had his legs blown away by an IED planted by the Taliban in Afghanistan. His story of survival and rebuilding his life is truly inspirational.
Meanwhile, construction of the new Blood Bank in Ramla continues, and should be completed in 2022. All underground levels have been completed with stringent security measures. We are seeking further funding to enable timely completion of this major project – the largest non-governmental construction project under way in Israel. Please contact us urgently if you are able to help us bring this project to fruition.
Please remember to include the Australian Friends of Magen David Adom Ltd in your Will. Your bequest ensures Magen David Adom in Israel will continue to save lives and protect Israelis every day. Your bequest can make the difference between life and death for many Israelis. In the past year, we received several bequests, including from the estates of the late Bruce Block, Seemah Morris and Steffi Tick. Each one will be honoured by Magen David Adom in Israel. May their memory be a blessing!
Thank you also to our Corporate Sponsors. The best way to thank them is to patronize their businesses. They can be found listed in this newsletter, and also on our website. If you know anyone who would like to become a Corporate Sponsor, please contact me.
Our office team has done an amazing job in difficult circumstances, some working from home due to COVID regulations, whilst others have maintained operations in our office. Thank you to Rivkah Lazarus, Tamara Lowbeer, Tzippy Jacobs and Jodi Isaacs. Special thanks to all our volunteers, especially Danny Studencki who has worked tirelessly to reorganise and streamline our administrative functions. Thanks also to our Board who also give many hours of their time to our noble cause.
I'm also pleased to advise our new CEO David Freed has joined us, and I'm sure you will be hearing from him in the near future.
On behalf of our Board, I wish you and your families Shanah Tovah Umetukah and G'mar Hatimah Tovah. We pray that the year ahead will be much better than the past couple of COVID-filled years, both here in Australia and for our brethren in Israel.
President Tony Ziegler