Thank you, our dear supporters for answering MDA's call to raise urgently needed funds to replace the ambulances damaged in the recent conflict in Israel.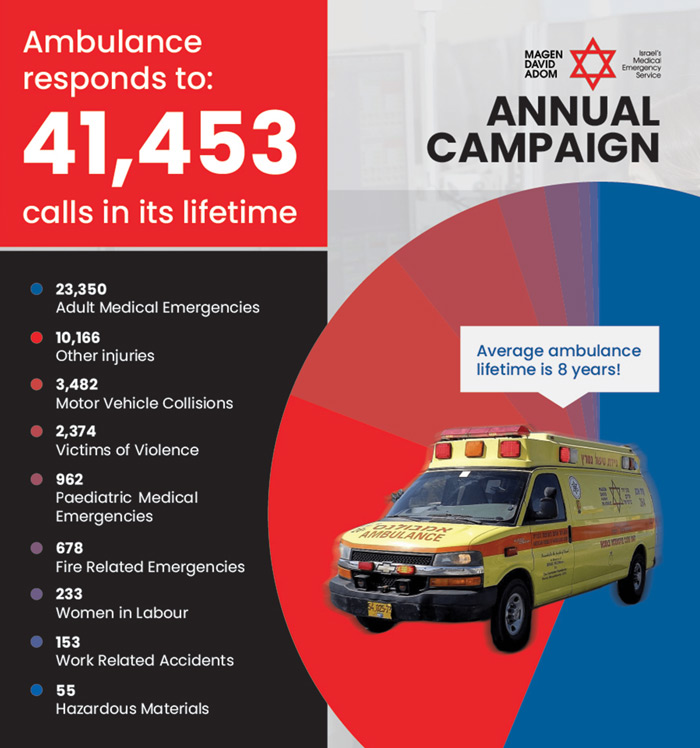 MDA's ambulances have been under extreme pressure during COVID and the recent Guardian of the Walls operation when 374 lifesaving vehicles were deployed. 12 of the ambulances were destroyed in the conflict and thanks to the generosity of the NSW Community, we are able to replace 4 of them – 3 Basic Life Support ambulances and 1 Mobile Intensive Care Ambulance. Thank you for digging deep to support the 2021 Annual Campaign.
As an NGO and non-profit organisation, MDA does not receive any funding from the State of Israel and all of its emergency vehicles, including its ambulances, are donated by generous donors from around the world. We are pleased to be able to play a significant role through your generous support.
Ambulances play an integral role in MDA's ability to provide vital lifesaving treatment in emergency situations.
With a fleet of over 2,000 lifesaving vehicles, the majority of these are ambulances – Basic Life Support, Mobile Intensive Care, 4 wheel drive, Bloodmobiles, armoured ambulances to mention a few. Each ambulance
type is tailored to MDA Israel's specifications to maximise their efficiency
and ability to save lives with minimal response times, when each extra minute can be a matter of life or death.
MDA's emergency vehicles are on constant high alert and must be replaced at a rate of more than 80 vehicles per year. We aim to play an important role here in Australia with our fundraising efforts so that MDA's 24,000 volunteers and 3,000 staff can continue their critical lifesaving work.
We welcome the chance to discuss donation opportunities and naming rights. Please contact Rivkah Lazarus or Tamara Lowbeer at the MDA office for more information.