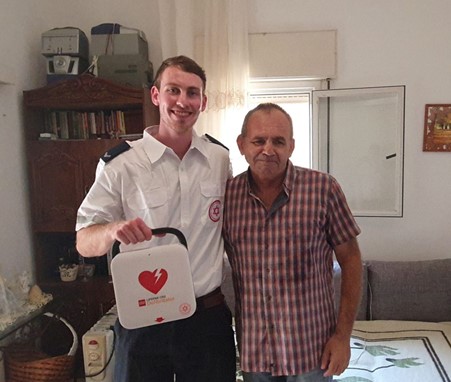 Joshua Rothstein finished Magen David Adom's final EMT exam, scoring a perfect 100. That same day, when he arrived at the Haganah train station in Tel Aviv to return to his home in Rehovot, he heard an announcement requesting immediate medical assistance.
Right: Joshua Rothstein reunites with Igor Kirkopolo after saving his life a week ago, the same day Rothstein scored a perfect 100 on his EMT exam.
The new graduate arrived at the scene of the incident within seconds and identified a man in his late 50s lying on the platform unconscious with no pulse and not breathing. Rothstein, along with a doctor who also arrived at the scene, began performing intensive resuscitation operations, using a defibrillator that had been placed in all train stations.
"After the test at the MDA station I was on my way back home and waiting for a train," recalls Rothstein. "Suddenly they called for medical assistance and I ran to the scene. I know that every minute is critical, so I started with chest compressions and used the defibrillator, just as we learned."
A few minutes later, MDA first responders on medicycles arrived at the scene along with an ambulance and a mobile intensive care unit. Thanks to the electric shocks and the quick treatment by Rothstein and the MDA teams, Igor Kirkopolo's heart began to beat again, and his life was saved.
Kirkopolo, a 57-year-old resident of Netanya, was evacuated to the cardiac catheterization lab at Ichilov Hospital for further treatment, fully conscious after suffering from a heart attack, and said, "I am already feeling fine and recovering."
The two recently met in an exciting reunion, during which Kirkopolo thanked Rothstein. "I want to thank MDA and Joshua for saving my life," says Kirkopolo. "Until last year, I worked as a maintenance manager at a factory, and I was, among other things, responsible for the maintenance of appliances. Today I understand firsthand the importance of this device – which, simply, saves lives."
"I am very happy that I was able to help save a life thanks to the knowledge I acquired at MDA," says Rothstein. "I was very excited to see Igor, who only a week ago was between life and death, standing here by my side with his family, smiling and healthy — and it's all worth it."