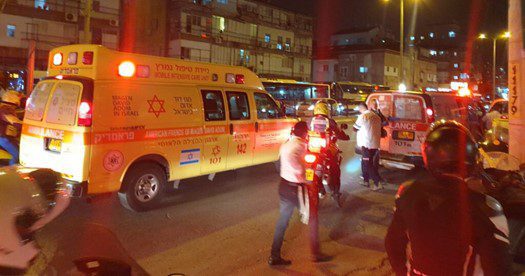 In one week, three terrorist attacks have erupted in Israel, leaving 11 dead and six wounded. Today's attack proved the deadliest with five people killed in Bnei Brak, a Tel Aviv suburb. This follows two Islamic State-inspired attacks in the northern city of Hadera and the southern city of Be'er Sheva.
Magen David Adom nearly lost one of its own amid the shooting.
"I live in Bnei Brak and was home when I heard gunshots," said EMT Menachem Englander. "I immediately went out to the street and saw a terrorist pointing a weapon at me. By a miracle his weapon jammed, and he couldn't shoot."
Police shot the terrorist dead, after which Menachem joined his colleagues at the scene, but unfortunately all of those who were shot succumbed to their wounds.
The Bnei Brak gunman was a Palestinian from near Jenin in the Palestinian Territories. Both Hamas and the Islamic State celebrated the slaughter in Bnei Brak and promised more to come.
We are deeply saddened and concerned by this growing wave of terrorism and we are more committed than ever to ensure that our brave men and women who risk their lives to save others have the protection, vehicles, and supplies they need to do their jobs.
This includes flak jackets and helmets, so they can respond as safely as possible even when gunmen are still at large. Special trainings are also being held, including responding to bombings.
Israeli authorities are on high alert, anticipating increased violence as Israel meets in the Negev for a security forum with friendly Arab states, and during the Muslim holy month of Ramadan, which begins April 1.
Our thoughts and prayers are with the families of those who were killed, and with those recovering from these acts of barbarism.
MDA will continue to respond rapidly and remains at the forefront of any crisis which any arise in Israel, at any time.