By Racheli Ikar, MDA Paramedic
Kishinev, Moldova — My friends and I, EMTs and paramedics from Magen David Adom, have had the privilege of being on a special mission in Moldova. This mission will be spoken about for some time to come — rescuing refugees from within Ukraine, from Odessa and Mykolaiv, and bringing them to Kishinev, Moldova.
MDA Paramedic Racheli Ikar aboard a Mobile Intensive Care Unit
ambulance prior to departure for Kishinev, Moldova.
While we were waiting for permits and security passes to get in, we used our time to visit our colleagues who have for the past month been running a clinic for refugees arriving from Ukraine, along with staff from Ichilov Hospital [in Tel Aviv]. The MDA clinic is based in the refugee center in the Kishinev's Jewish community.
We took two taxis to an address given to us by Roman — an MDA paramedic and the clinic manager. We were the first ones there, in an isolated industrial zone, where at first we thought we'd been taken to the wrong address. It didn't look like a refugee center. We arrived at a nondescript building, and warily walked up to the third floor, which once had housed a printing business. There was a large hall, and the first thing that hit us was the smell — the smell of a large number of people who have been stuck together for a long time.
The next thing to hit us was what we saw — it was a heartbreaking sight.
We saw elderly people with walking sticks, women and children living there. There were piles of mattresses, toys, kids running round, small suitcases and clothes everywhere. Disposable food trays on a table at the side. I felt a little lost at these sights. I can only imagine what they went through before they got here, what they left behind, and what they are going through now.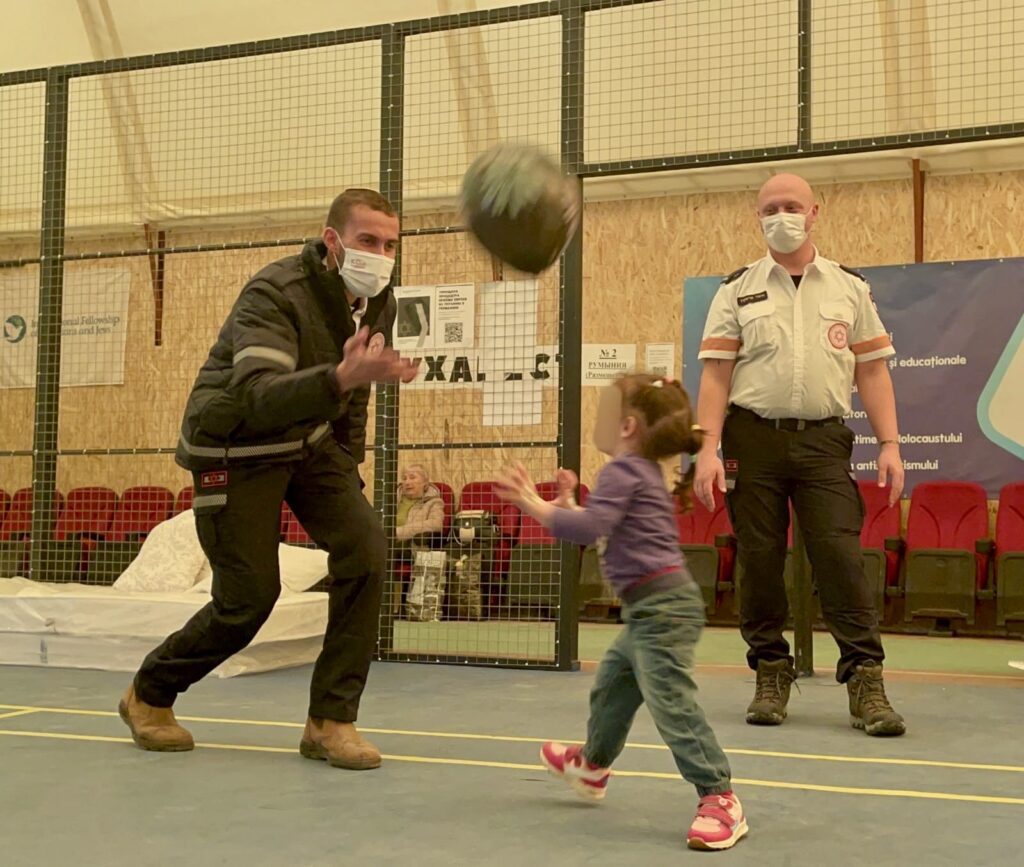 Happily, I suddenly saw the all too familiar symbol — the symbol that is an indicator of all that is good and right in this world — the symbol of Magen David Adom, sitting there proudly on a red blanket that I quickly approached.
My colleagues from MDA sectioned off a corner of the old printing press and covered it with red blankets, the ones we usually use in Israel for covering our ambulance patients, in order to provide some privacy to people visiting the clinic.
There's a plastic folding table with some alcohol spray on it, a few cabinets with medications ("They finally arrived" says Inna, one of the MDA staff in the clinic), MDA flags, paramedic and EMT vests, and sitting in the corner is a bed for a patient, surrounded by a curtain made of blankets.
And these wonderful people — we were one delegation — although we split into different missions when we arrived in Kishinev. Inna Bishevskaya and Valerie Khartchensko, MDA EMTs who are part of the clinic staff, along with Dr. Marina Izak cheered as we entered. At the same time, Artyom Sandler, another member of MDA staff, was helping an elderly lady into the clinic. My conversations with the staff who I hadn't seen for some time are cut short — work comes first! And the refugees we've come to assist come first. Once she leaves, another lady walks in using walking sticks.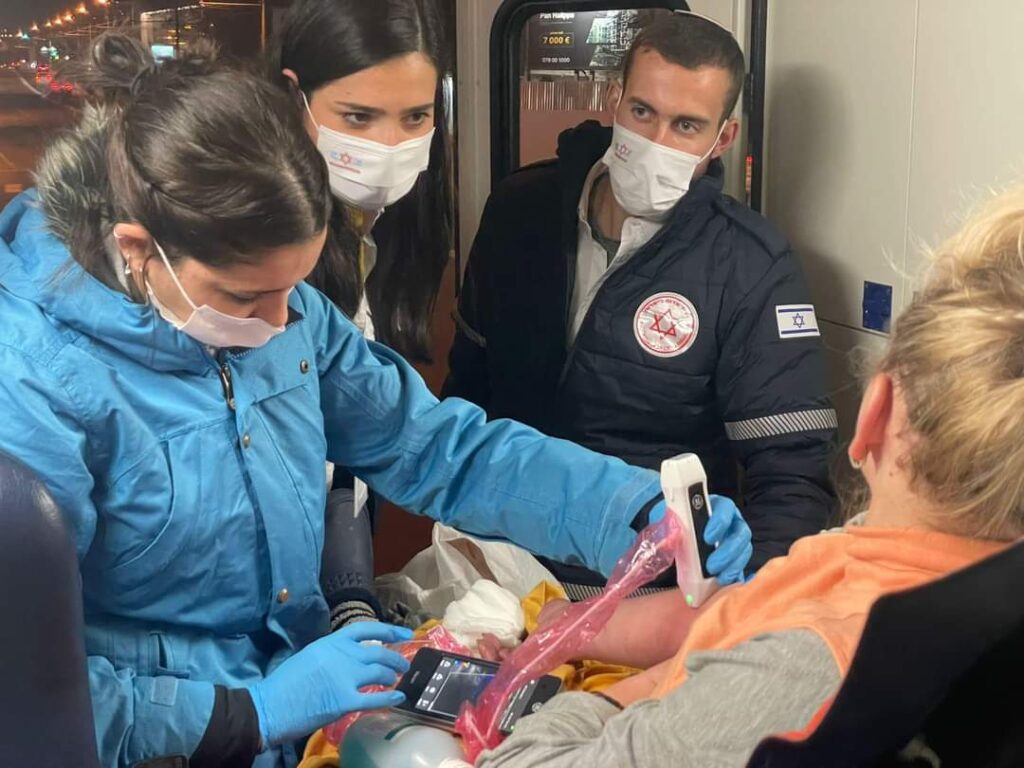 She was forced to escape Mariupol without her regular blood-pressure medication. Dr. Izak talks to her, listens to her, and then Valerie checks her blood pressure. Dr. Izak doesn't write a prescription or send her to the pharmacy, she goes to the cabinet, takes out the medication and gives it to the lady, along with an explanation of how she should be taking it.
I ask Dr. Marina Izak what made her leave her family and her important job as deputy manager of Blood Services in MDA, and come here.
"It was important for me to be here, where my help is required," she said. "My family is important to me and know that I'll soon return. As soon as the war broke out, I told my husband and children that I need to be here. They weren't too enthusiastic and found it hard to say goodbye, but they all understood my desire to be in the place where my professional skills were most required.
"They know me well enough not to try to convince me to stay in Israel. I think that one of the things that most exemplifies MDA staff is that we are willing to help anyone who needs that help, irrespective of how far away they are. It's one of the reasons I chose to help here."
The clinic we have set up with Ichilov Hospital is of a high standard. For example, we had a lady who had escaped the war and came to us complaining of pain in her leg. We noticed significant differences between her right and left leg, and suspected that she may have a blood clot in one leg. My colleague from Ichilov, Dr. Aviram Hochshtadt, confirmed our suspicions when he performed a Doppler ultrasound. Thanks to the diagnosis, we started her on blood thinning treatment very quickly, and she came back to us the following day already feeling better and her leg was showing signs of improvement.
"It really is impressive," agrees Dr. Hochshtadt. "We are able to provide a high level of medical care. Even though this is a clinic in a makeshift refugee center, there are no compromises when it comes to medical standards, and it is almost identical to the care we provide in our Emergency Department (ED). A patient like this one would most likely have been sent to the ED in Israel, and here we were able to provide her with the same treatment, in our clinic."
This isn't the only case that required the team at the clinic to provide advanced level of care. The refugees who arrive can come to the clinic, be checked, receive treatment including medications, and all at no cost.
"At least 50% of the patients ask how much they need to pay," says Inna, an MDA EMT. "They're always surprised when we tell them that this is a free service."
There are two doctors and four members of MDA staff at the clinic. Available checks include blood pressure, cardiac monitoring, EKGs, blood tests, ultrasound, some surgical capabilities, and medications. When a busload of refugees arrives, the team meets them and seeks out the people who might need medical help.
"Many of them don't look good, but they all say they're O.K.," says Dr. Izak. "It's a phenomenon."
"A patient arrived here from Mariupol," relays Dr. Hochshtat, "whose house was bombed. He ran away and injured his elbow. It took him time to get out of Ukraine, and so for two weeks after his injury he didn't get to see a doctor. He didn't even get the wound disinfected. When he arrived here he was in pain, his elbow was swollen and inflamed, and was full of infection. We realized that we would need to drain the wound, something we were able to do with some minor surgery.
"We have a rapid and reliable assessment system," Dr. Hofschtadt continues. "I think we have the winning formula. We've taken MDA's emergency treatment capabilities, along with the routine medicine capabilities that we have in Ichilov, and we have created a whole that is greater than its sum parts."
When I ask him why he came here, on this mission that is so far from home and from Ichilov Hospital, to this makeshift clinic in an old printing press packed full of people, he doesn't hesitate.
"I heard that they needed volunteers here," he said. "I think I spoke to anyone and everyone who I know and told them that I want to join this mission. We all live in a very privileged society, and our aim is to reach out to places that have it worse than we do and try to give some our privilege, to try to help as much as we can.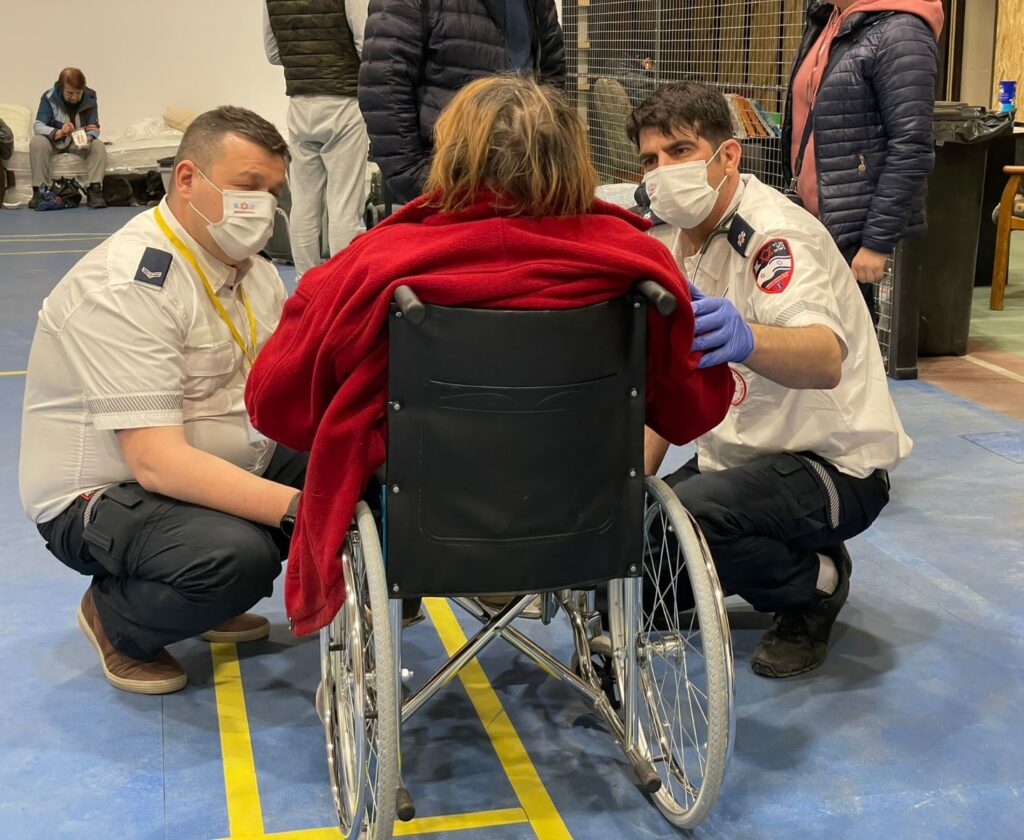 "When I told my wife that I was going she said 'O.K.' and it was made easier for her knowing that I wouldn't be near the battlegrounds. My children are 5 years old. We sat with them and showed them where each place is on a globe, told them about the many injured people who their father could help as he's a doctor. At first I didn't think they understood, but I've since spoken to my wife who told me that they've been telling every other person they meet that their father is a doctor and helping people from Ukraine. And of course, bribery in the form of presents always works.
"Today we had three generations of the same family come to see us at the clinic. The grandmother arrived first, and once we had gained her trust, her daughter and then granddaughter came to receive treatment."
Roman Belman, an MDA paramedic from the Gilboa Region, serves as the clinic manager. He's constantly running around on different errands. When I ask him about his team, he answers very simply: "They're like a special-forces unit. Each and every one of them is a star."
Artyom Sandler, an EMT from the Negev Region who was born in Ukraine, agrees.
"It's a great honor for me to be here," Artyom says. "The team is simply amazing. Everyone cares and they're all professional. The dynamic within the team is good; there's a feeling of a joint mission. It's good to feel that you're needed, even if it's only a little. I'm amongst people all day. I listen to them, and the things I've heard, the things they've been through, will stay with me forever."
Artyom notices a young mother, despairing, trying to feed soup to her young son. She explains that the child has barely eaten a thing since they left Ukraine. Artyom walks over to the toy box and takes out two cars, sits down next to the child and encourages him to eat so he can get big and strong. He spends a quarter of an hour with him, until the boy finishes his meal, and then gives him the toys. The mother is grateful, and a huge smile can be seen on all their faces.
Inna walks into the clinic holding a small snack. None of the staff manage to take a real break.
"I'm not sure which story to tell you," she says, when I ask her what kind of stories she has come across. "I really try not to remember the things I hear, or even the small human moments. I'm really trying to distance myself from it all. But there is one story that won't leave me.
"There was a refugee we treated who managed to bring her daughter with her. But her son, who is around 18 years old, wasn't allowed to leave Ukraine because he is of conscription age. She has no idea where he is now, but had to leave to protect her daughter. That's an impossible situation for a mother. And in the midst of all of that, MDA staff have to play a medical role, listen, contain, and treat as best we can."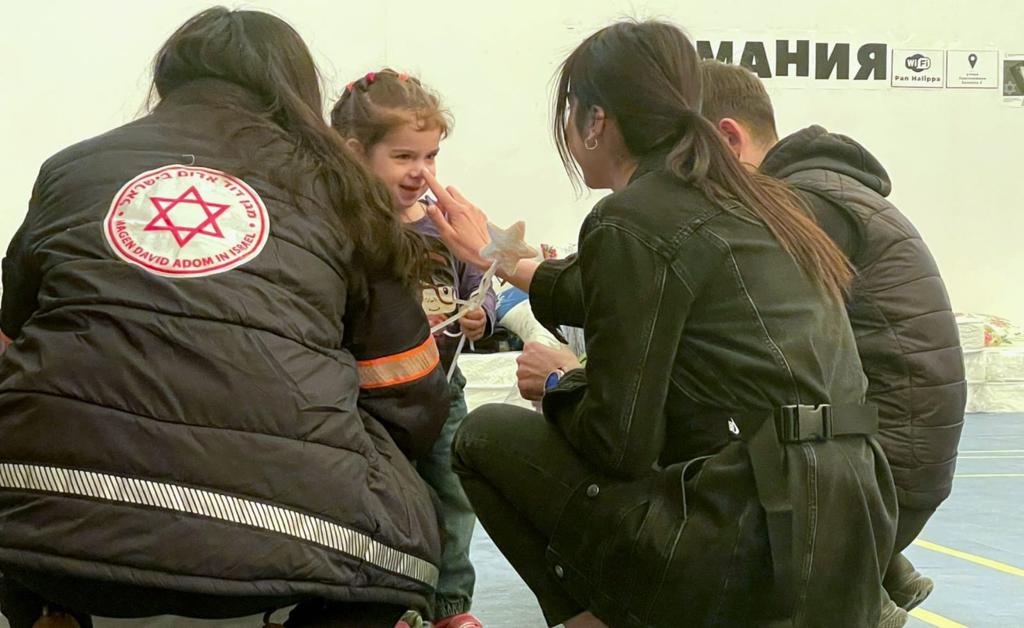 "We're really here for the medical aspect," said Roman, "but we provide so much more than that. Valerie starts every day talking for 15 minutes with every lonely refugee. Just a conversation, nothing medical. Artyom and I assist people to shower or change elderly patients' diapers because there is nobody else here to do it for them. It's nothing to do with being a paramedic. It's to do with being a good human being."
I leave the MDA-Ichilov special-forces unit, and go back to arranging entry into Odessa. There's a lot of pride in my heart, a bit of jealousy at their bravery, their friendship, their ideals, and the opportunity they have to help people in such a tangible way.
And on my way out, I see MDA EMTs playing with the children.
Other MDA staff playing soccer, or carrying an elderly man three floors down in his wheelchair just to get some air.
And I am hugely proud to wear these clothes — the uniform of Magen David Adom.