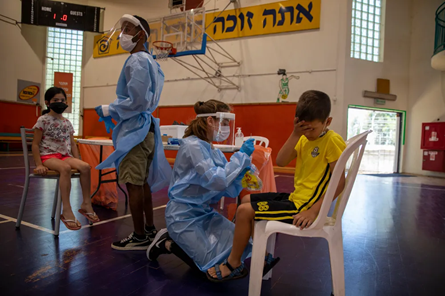 The Government is still debating restrictions on outdoor restaurant seating and pools ahead of implementation.
Magen David Adom is set to open some 220 antigen test centers around Israel on Wednesday as new restrictions come into force to combat rising cases of COVID-19.
The government is attempting to prevent a potential lockdown during the High Holidays in September, as the number of seriously ill patients stands at more than 550. The number of new daily cases broke 8,000 Tuesday, the highest since February.
The "purple badge" designation for malls, stores, commercial and shopping centers, and venues holding audiences will be limited to one person per seven square meters.
The status of swimming pools, seating in outdoor restaurants and other attractions have not been decided.
Cultural and sporting events, conferences, exhibits, gyms, studios, houses of prayer of more than 50 people, festivals, and more require a "green pass" given to those vaccinated or recovered from coronavirus.
Those under three are exempt from testing, while those three to 12 can receive free testing to enter places with "green pass" restrictions. Those over 12 will have to pay for the test.
Rapid antigen tests are good for 24 hours, while the more reliable PCR tests last for three days.