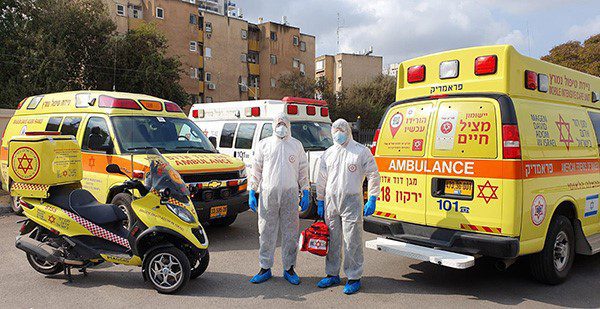 245,460 people have been sampled, 6,500 samplers, 4,270 Evacuations to hospital, and more than 2,000,000 calls since the beginning:
MDA has been at the forefront of the fight against Corona, an intermediate summary:
Since the Corona virus arrived in Israel, Magen David Adom, as Israel's national emergency medical and blood services organization has been at the forefront of the national effort to prevent the spread of the virus and maintain public health. Since the first days of the crisis, MDA teams around the country have been carrying out swab samples of those suspected as having contracted the corona virus in the patient's houses, at various long term care facilities and "Drive-Thru" complexes, and in addition evacuating verified patients to hospitals and inpatient hotels.
Simultaneously, MDA's Blood Services are responsible for all plasma collection (the blood component containing the corona virus antibodies) from those recovered from the virus, to help treat patients in moderate and severe condition.
245,460 people were sampled by MDA teams across the country. Of these, 96,065 were sampled at the "Drive- Thru" complexes, 88,272 were sampled in their houses, and 61,123 were sampled in nursing homes and in long term care facilities across the country.
20,598 people were sampled at the "Drive- Thru" complex in Tel Aviv, 8,251 in Haifa, 5,911 in Be'er Sheva, 6,000 in Bnei Brak, and 19,368 people were sampled in the "Drive- Thru" complex in the city of Jerusalem.
Tens of thousands of samples were carried out in the 94 permanent and mobile complexes established by Magen David Adom and the Ministry of Health in many localities throughout the country: Tel Aviv, Jerusalem, Haifa, Be'er Sheba, Abu Ghosh, Acre, Afula, Ar'ara, Arraba, Ashdod, Ashkelon, Baqa, Basmat Tab'un, Beit Shemesh, Beitar Ilit, Bi'ina, Bir al-Maksur, Bney Brak, Carmiel, Daburiyya, Daliyat al-Karmel, Deir al-Asad, Deir Hanna, East Jerusalem, Eilabun, Ein Mahil, Elad, Fassuta, Fureidis, Gilboa regional council, Golan regional council, Hura, , Hurfeish, I'billin, Iksal, Isfiya, Jadeidi-Makr, Jaffa, Jaljulia, Jatt, Jisr az-Zarqa, Kabul, Kafr Kana, Kafr Manda, Kafr Qasim, Kafr Yasif, Kalandia (Kafr 'Aqab), Kaukab Abu al-Hija, Kiryat Shmona, Kisra-Sume, Lod, Ma'alot, Maghar, Majd al-Krum, Majdal Shams, Mas'ade, Mashhad, Migdal Ha'emek, Modi'in, Modi'in Ilit, Mount Scopus, Muqeible, Nahariya, Nahf, Nazareth, Nein, Netivot, Nof HaGalil, Peki'in, Petah Tiqva, Qalansawe, Rahat, Rameh, Ramla, Reineh, Schneller (Jerusalem), Sha'ab, Sha'ar Binyamin, Shefa-'Amr, Shibli, Shuafat Refugees camp, Tamra, Tarshiha, Tel as-Sabi, Tiberius, Tira, Tur'an, Umm al-Fahm, Wadi Ara, Yafa an-Naseriyye, Yanuh-Jat, Yarka, Zefat, Zemer
According to MDA's data, a total of 52,694 people were sampled at the "Drive Thru" facilities (accounting for 55.2% of all samples taken). The following is a breakdown per sector: 24,914 (25.9%) were of the Arab sector, 14,311 (14.9%) were of the Haredi (Ultra-Orthodox) sector, 2,126 (2.2%) were of the Bedouin sector, and 1,750 (1.8%) were of the Druze sector.
In total, 51% of the sampled across the country are men and 49% are women. 7% of the sampled are children under 9, 9.8% are aged 9-19, 24% are aged 20-29, 15.5% are aged 30-39, 13% are aged 40-49, 11.3% are aged 50-59, and 19.4% are over age 60, according to MDA's data.
A total of 6,527 swabs samplers have been working since the crisis began, after training undergoing the appropriate training by MDA. Among them, 4,290 EMTs and paramedics who volunteer or work at Magen David Adom, 420 IDF soldiers and 1,263 medical students who volunteered to assist in the effort.
More than 2,000,000 calls have been received at MDA 101 Emergency Call Centres and the designated Corona call centres that have operated by MDA in the past two months, at an average of about 37,000 calls per day. On a routine day, 5,500 call are received marking an increase of 700%. On the busiest day at Magen David Adom around the country (Tuesday 31.3), 86,655 civilian calls were received within 24 hours.
In order to meet the burden of callers, while adhering to the Ministry of Health's guidelines for the prevention of infection, in addition to MDA Emergency Call Centres around the country, designated Corona call centres were set up at Shimon Peres Middle School in Kiryat Ono, in Ramle, In the Issta building in Tel Aviv and huge tents set up at MDA's National Operations Centre in Kiryat Ono.
At the same time as the call centres were being operated and swabs were taken, Magen David Adom's EMTs and paramedics have thus far evacuated a total of 4,270 corona patients to hospitals and inpatient hotels. The patients were evacuated by hundreds of MDA MICUs and ambulances, including 120 special ambulances for the evacuation of corona patients, in which there is complete separation between the driver's cab and passenger compartment. This was developed in a joint venture between Magen David Adom and the IDF.
MDA's logistics division also operates around the clock to provide the much-needed equipment and supplies for MDA's newest operations. Since the Corona crisis began, some 400,000 sampling kits and 100,000 personal protection kits have been prepared and supplied by the division.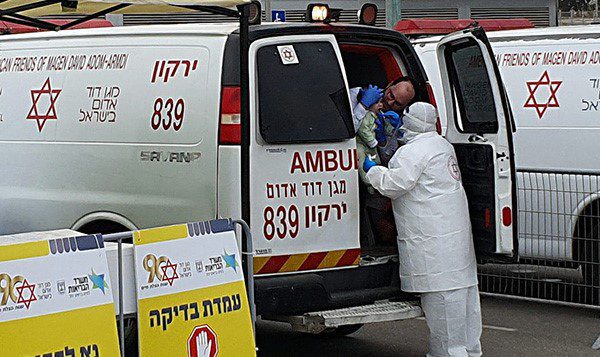 A few weeks after the crisis began, the number of those recovered from corona in Israel began to rise, and under the guidance of the Ministry of Health, MDA's Blood Services began collecting plasma (the blood component that contains the corona antibody) from patients who had recovered at least two weeks prior. MDA Blood Services in Tel Hashomer and Jerusalem are responsible for the collection, and 51 corona patients have already been treated with the donor plasma.
MDA Paramedic Tohar Blumenthal from Tel Aviv began sampling people in their houses on the first day of the crisis: "At first it seemed to me that the sampling project was temporary and localized," said Tohar, "if I were told in the first few days that we would test more than two hundred and forty thousand people, I wouldn't believe it. We were a few dozen paramedics all over the country who were trained to carry out the samples, but from that day on, the load was on the rise, and very soon hundreds more and many more thousands were already trained to carry out this important task. "
MDA Director General Eli Bin: "For about two months, tens of thousands of volunteers have been fighting the Corona virus and thousands of Magen David Adom volunteers around the country, and alongside medical students, soldiers and all who have joined the effort. From the first day of the crisis, Magen David Adom, Israel's national emergency medical and blood services organization, has been working alongside the Ministry of Health and all the authorities, now we must remember that the crisis is not behind us, and that the improvement in the situation depends on the continued conduct of each and every one of us, citizens, as we pray for better days ahead. "