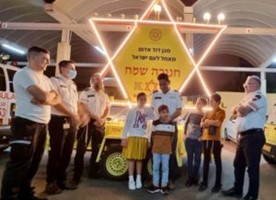 On November 30, 2021, an emergency drill was held at Ben-Gurion Airport, simulating the crash of a passenger plane on the runway with 250 people onboard. The drill was a joint effort between the Israeli Airports Authority, Magen David Adom, Israel Police, Israel Fire and Rescue, and other emergency organisations. "Today, we triaged 250 simulated casualties who were given medical treatment and evacuated [to hospitals], all while managing a complex scene," said Ziv Klainbart, MDA Ayalon Region deputy director and drill commander. "It is a complicated drill that prepares us to be able to provide proper medical care and to be ready for a real event."
The goal of the drill was to evaluate the emergency protocols, response and the collaboration between all participating organisations, including the Israel Defense Forces and the Home Front Command. The focus for MDA was on ensuring a rapid arrival to the scene, coordinated response at the crash site, and efficient management of the immediate medical care and evacuation to hospitals.
The drill simulated the emergency alert message from the control tower received at MDA's National Command and Control Center. MDA teams provided medical treatment to 250 simulated passengers. They took critical patients to the MDA Medevac helicopter that landed at the airport and airlifted them to the hospital and simulated the triage and evacuation of tens of other victims.
MDA deployed eight Mobile Intensive Care Unit ambulances, 20 life support ambulances, five Multi-Casualty Rescue Vehicles, two paramedic supervisor command cars, Medicycles, two regional command and control vehicles, the national command and control truck, and hundreds of paramedics and EMTs.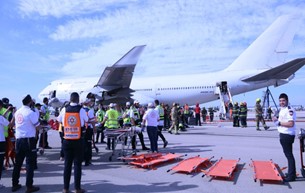 "This is a complex and important exercise held once every two years," explains Eli Bin, MDA director-general. "It gives us the opportunity to practice the capabilities of Magen David Adom, and to reinforce the critical collaboration between all emergency response organisations and the Airports Authority.
"There's no doubt that this exercise is maintaining the professional skills of our team members. It is my hope that we will never be called to a live scenario and need to put our knowledge to use.
"If, God forbid, we will need to do so, MDA is capable of responding within minutes, while continuing to provide the response to routine medical emergencies and maintain the preparedness for additional emergency incidents." Two weeks ago, MDA also participated in an emergency drill coordinated by the Defense Ministry. The drill simulated a terror attack in Jerusalem with a radiological device to evaluate how the country's government and emergency services would respond to a non-conventional terror attack with a "dirty bomb," which includes radioactive elements.
And in early November, MDA participated in a week-long drill simulating a full-scale war with Hezbollah.