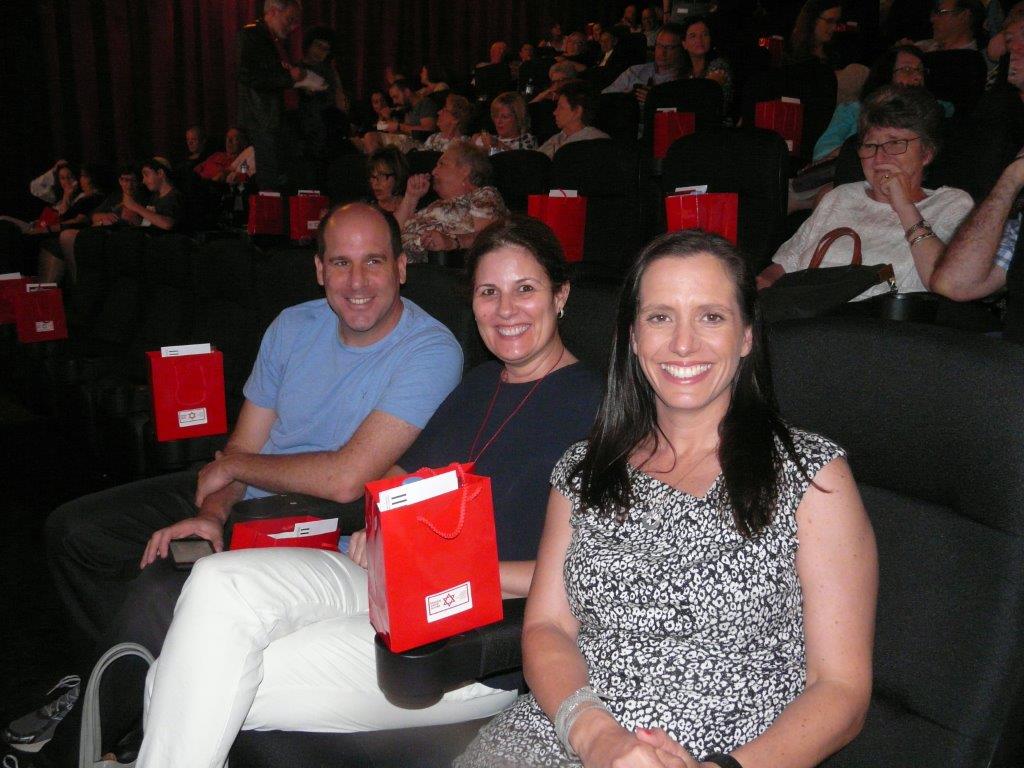 Magen David Adom friends filled the cinema at Westfield on Sunday November 20 to see a mouth-watering documentary about food from all over Israel. "In Search of Israeli Cuisine" portrayed a diverse, multi-cultural society which has adapted a huge variety of foods and food styles to its own lifestyle and taste.
The evening commenced with a raffle with a wide range of generous prizes.
Josh Bolot, MDA Board member, was the MC for the evening. In his welcome, Josh highlighted the wonderful support of the NSW community as reflected in the recent donation by NSW Friends of MDA of 21 Medicycles and an ambulance to MDA Israel, whilst lamenting that these are still so vitally necessary. He revealed that MDA "also has a recipe. We blend 13,000 volunteers from all parts of society, mix in 730,000 phone calls and 300,000 blood units, add 900 vehicles, sprinkle in the support and love of international friends like us in New South Wales, and dispatch from 124 stations. This serves life-saving support in Israel all day, every day regardless of race or religion and contributes to international humanitarian situations."
THANK YOU
We extend our thanks for donation of snacks to:
Michael Gordon, Wild One for the water
Manfred Frankel of Good Food Catering, and David Wolf for the nougat
Clive Sher for the Ari bars
Krinskys & Yumis for the humous snack packs
Raffle prizes were generously donated by:
Marc Rom, Raymond Weil, a watch value $1000
Len Milner, Mayfair, 2 suitcases value $800
Larry Porter, Ice watch male value $229 & female watch value $199
Lisa Goldberg, Monday Morning Cooking Club, 2 cookbooks and an apron, value $115
Wash Treatment and Blow Dry, Hair by Rita Raikhel, Bondi Junction, value $110
Tony & Carolyn Ziegler, Dreambaby voucher value $100
Josh Bolot, Signed Neil Perry Cookbook, value $80
Sterling Laundry, Wash & fold 2 doonas and 4 pillows, value $60
We thank everyone for their attendance and support making the evening a great success.