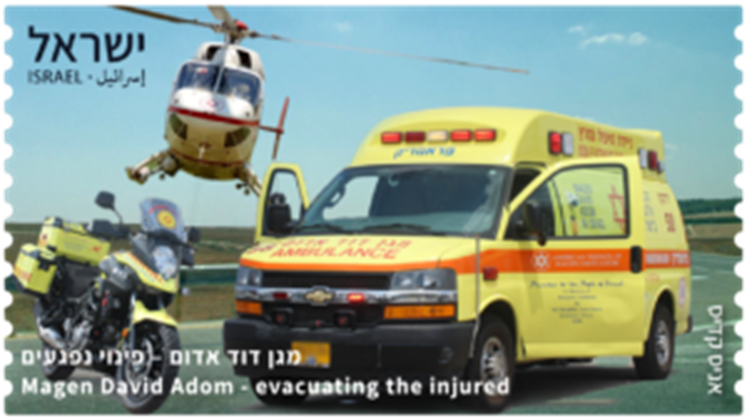 How do you recognize an organization that's proved vital in saving lives during the worst pandemic in more than a century? For Israel, one way is to immortalize them by issuing postage stamps paying homage to their work.
Three postage stamps commemorating the work of Magen David Adom, Israel's paramedic and Red Cross service, were released Tuesday by Israel's postal service. Stamps coming out in the weeks ahead will pay tribute to Israel's other rescue services — the IDF, the police service, and the fire authority.
The stamps commemorating Magen David Adom specifically cite the organization's work during the pandemic and its role providing emergency medical care to Israel's people.
"It's an honor for Magen David Adom to be recognized in this very public way," said Eli Bin, MDA's director-general. "Our EMTs, paramedics, hematologists, and phlebotomists have been working tirelessly during the Covid pandemic. Having their work acknowledged is very gratifying and serves as fuel for even more great work ahead." Prior to the pandemic, Magen David Adom was best known internationally for its cutting-edge mass-casualty protocols, which it developed responding to terror and rocket attacks. It's also developed leading EMS technologies, including what's considered the world's most sophisticated dispatch system and a state-of-the-art phone app for citizens to call for help in medical emergencies.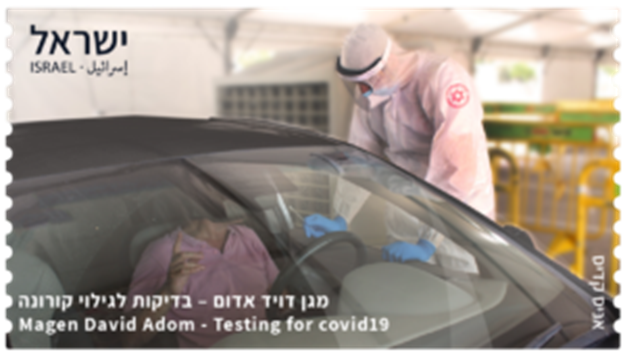 During the pandemic, MDA has taken on new roles, administering Covid tests to more than 3.5 million Israelis, providing emergency medical aid to Covid patients and transporting them to the hospital for treatment, and, in recent weeks, vaccinating virtually every resident in Israel's nursing homes, long-term care facilities, and independent senior housing.
Israel is now leading the world in vaccinating its people, with more than 41 percent having received at least their first dose of the two-dose Pfizer regimen, and more than 25 percent now fully vaccinated. MDA has been responsible for about a quarter of the people fully vaccinated.
"A first-class stamp is a great way to honor men and women who've done a first-class job during this crisis," Bin said
By Matt Sloan