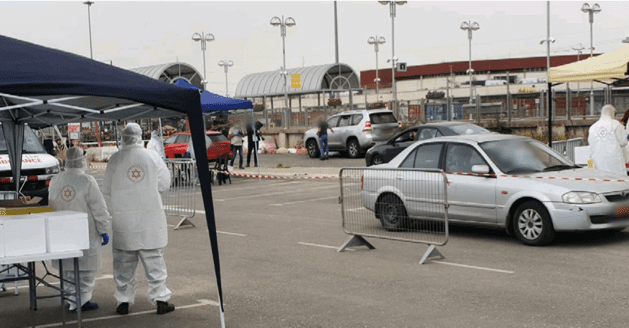 As part of the actions being taken to continue to increase the number of tests throughout the country, and in addition to the four already established "Drive Thru" complexes, Magen David Adom and the Ministry of Health, operate additional mobile "Drive Thru" complexes which reach cities and neighbourhoods throughout the country in Wadi Ara and Bnei Brak, Modi'in, Tamra, Rahat and Ashdod. Each of the mobile "Drive Thru" complexes can simultaneously run two test lanes for those in private vehicles, sampling dozens of people an hour. Everywhere around the country the mobile complexes are staffed with teams of Magen David Adom, members of the Israeli police and security guards to maintain public order, similar to the permanent complexes already operating in Tel Aviv, Jerusalem, Haifa and Be'er Sheva.
MDA would like to emphasize that the test at the mobile " Drive Thru " complexes may only be completed after contacting Magen David Adom's 101 Call Centre and receiving approval. Anyone approved by a doctor to be sampled will receive an SMS message with the details and will be asked to arrive at the location of the mobile complex during operating hours.
As part of the sampling process, people must use their own private vehicle, data identification and verification will be carried out, followed by sampling by MDA paramedic in full protective gear. Throughout the process, the passenger will remain in his vehicle, and then drive back directly to his home.
As of Wednesday, April 1,2020, 23:00 since the corona virus has spread worldwide, Magen David Adom's paramedics have taken samples from 81,000s people nationwide. MDA Director General Eli Bin: "As part of the ongoing fight against the spread of the corona virus in Israel, we decided together with the Minister of Health, the Director General of the Ministry of Health and the other ministries and MDA, to operate two mobile "Drive Thru" complexes, in addition to the four other complexes. The goal is to reach every patient in quarantine who develops symptoms as quickly as possible, and perform necessary tests to detect Corona patients, nationwide. We will continue to reach patients who will not be able to arrive in a private vehicle and sample them at home, safely and professionally. Magen David Adom will continue to do all it can to help fight the Corona virus, for public health and saving lives in Israel".