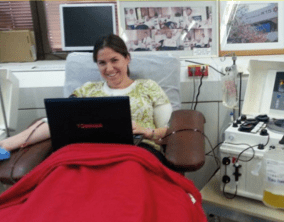 As part of the project, MDA will collect plasma units from those recovered from Corona in order to treat the severely ill. This is based on the assumption that those who have recovered from the disease have developed special anti-virus proteins (antibodies) in their plasma. These units provide patients with a "passive vaccine" that may help them cope with the disease.
Plasma with antibodies has previously been used, for example, in the treatment of patients with SARS during the outbreak in 2002 and in Israel similar treatment has been previously given to patients with West Nile fever. This week (24.3), the FDA approved a similar protocol in the US.
MDA Deputy Director General- Blood Services, Prof. Eilat Shinar: "those who have recovered from Corona virus (CoVID 19) will be invited to donate plasma by a special method (Pheresis method) where only donor plasma is collected, and all other blood components are returned to him. This method has been in use at MDA's Blood Services over 30 years and thousands of volunteers donate blood this way every day. In the first phase, the plasma units will be used to treat by transfusion, but the goal is to collect enough plasma to prepare antibody (immunoglobulin) concentrate with which patients will be treated later. Of course, anyone who is invited to donate a plasma must meet the Health Ministry's criteria and requirements for donating blood.
Plasma collection can only be done after 14 days have passed after their full recovery and these days the Ministry of Health in contact with those who have recovered to transfer their details to Magen David Adom.
The project is expected to begin in the coming days and will be carried out in the Pheresis Unit at MDA's Blood Services Centre, at the Tel Hashomer complex.
MDA Director General, Eli Bin: "MDA is at the forefront of the Corona virus in Israel and its teams are working days and night answering tens of thousands of calls. These efforts are now joined by activities already implemented in the world and are successful, and we all hope that together we will overcome this challenge".