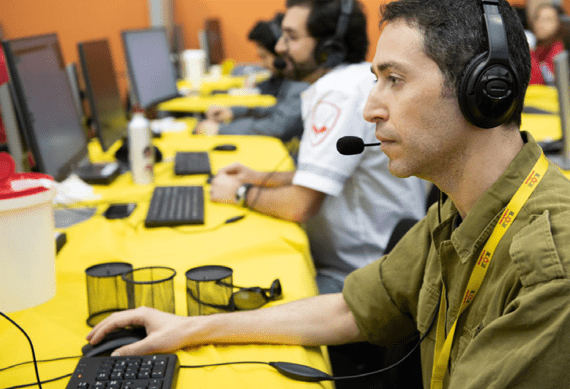 As part of MDA's efforts to deal with the corona virus and being at the forefront of the fight, dozens of workstations have been opened at new dispatch centres around the country, which are manned by no less than 500 EMTs and paramedics, including dozens of MDA reserve units in the Home Front Command.
MDA receives tens of thousands of calls a day, with the peak reaching more than 100,000 calls in one day, which has required the organization to open additional dispatch centres that control the entire country to meet the call load, while maintaining response to MDA's emergency routine. In all the newly opened dispatch centres, the most advanced command and control systems and technologies in the world are being used by MDA.
One of the dispatch centres opened is in the "Issta" building in Tel Aviv, which was converted into the coronavirus hotline. The company's call centre activity was almost completely discontinued due to the situation, and therefore, Issta provided about 80 computerized workstations for MDA, along with all the technical and logistical services the company provided for the matter. Another call centre was opened in the Shimon Peres school in Kiryat Ono, which was also converted to an MDA call centre, with all classrooms becoming call centre rooms and in each room up to 10 volunteers staying within 2 meters of each other, as the Health Ministry requires.
MDA Director General Eli Bin: "Due to the sharp increase in calls, MDA is preparing quickly to open more centres at various locations around the country to provide the best response to the public, while maintaining professionalism and dedication. We thank all the bodies that have provided the means to meet the demand and to best serve the citizens of Israel. "