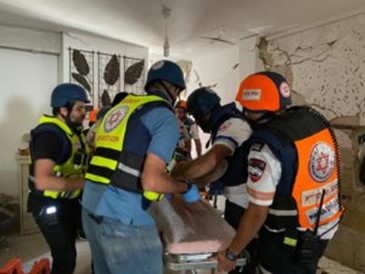 Israel's conflict with terrorists in Gaza took a more ominous turn Tuesday when five people were killed, including a 16-year-old girl, in separate rocket strikes that left many others injured, three of them critically.
Early in the day, two women were killed in Ashkelon when rockets separately struck a private home and an apartment building. The fatality in the private home involved a 32-year-old live-in home health aide, whose 81-year-old client was critically wounded in the attack.
During the evening, a third woman sustained fatal injuries from a rocket strike in Rishon LeZion. And later that evening, a father in his 50s and his 16-year-old daughter were killed near their home in Lod when a rocket struck their car. The girl's mother was seriously wounded in that attack.
Lod has also been the site of widespread sectarian violence between members of Israel's Jewish and Arab communities that has left many injured and an Arab-Israeli dead. Stores and synagogues in Lod have also been set ablaze in the riots.
More than 1,000 rockets have been fired at Israel since the conflict began early Monday, including periods in which hundreds of rockets were fired in just a few minutes, a strategy deployed by Hamas terrorists to try to defeat Israel's Iron Dome missile defense system to inflict the greatest number of casualties.
In addition to attending to the Israelis who died in the attacks, Magen David Adom evacuated 46 people to area hospitals as a result of the rocket attacks. An additional 46 people required medical attention as the result of injuries sustained in riots and other acts of violence, three of whom required hospitalization, including a 56-year-old who's in serious condition with head wounds.
"Magen David Adom remains on its highest level of alert and will continue to administer medical help and lifesaving aid, even amid the rocket attacks," said Eli Bin, Magen David Adom's director-general. "We're grateful for the support of the American community and the crucial equipment and supplies their generosity has provided in these difficult times."